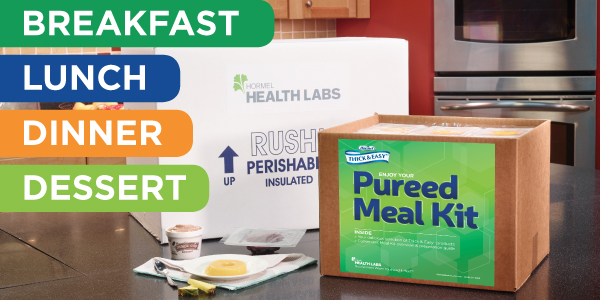 Provide your patients with the convenience of home delivery and the comfort of delicious and nutritious pureed meals
Our THICK & EASY® Pureed Meal Kits help make meal prep easier than ever for those challenged by dysphagia. They'll provide your patients with all the courses they'll need to prepare several days worth of tasty, easy-to-make pureed meals to keep the people you're caring for happy and healthy. Better yet, the all-in-one package is delivered straight to their doorstep.
Both breakfast and lunch/dinner kits are available to help cover every meal of the day, and are perfect to help out those transitioning to home care, traveling for the holidays, or just those looking for more convenience when it comes to meal time.
---

We're proud to be a platinum IDDSI sponsor
We're a proud platinum sponsor of the International Dysphagia Diet Standardization Initiative (IDDSI). In addition to our sponsorship, we offer a wide variety of IDDSI resources for healthcare professionals and 50+ products that meet IDDSI standards for dysphagia diets.
Sincerely,
Tim Garry
Hormel Health Labs