Learn about organics and children's health in this month's issue of Today's Dietitian. Read the Today's CPE article, take the 10-question online test, and earn two CPEUs!

Click here for details.



In the January issue

Omega-3s may help depression, other mood disorders

Enteral nutrition for esophageal cancer patients

How will the ADA and DMA name changes affect dietetics?

Culturally sensitive diabetes care in the LGBT community

Outpatient counseling for bariatric clients



Have a dietetics-related question that you would like an expert to answer? E-mail TDeditor@gvpub.com and we may feature your query!



Congratulate the newest additions to the dietetic field with products designed specifically for the on-the-go nutrition professional. From messenger bags and tote bags to apparel and journals, the Today's Dietitian gift shop has the perfect gift for recent grads or the RD to be. Check out our secure online shop today or call toll-free 877-809-1659 for easy and fast ordering.


iPhone App Scans and Chooses Healthful Groceries


This free mobile app from Fooducate will enable clients to scan grocery items to determine how healthful they are, better understand nutrition labels, and compare products. Learn more »

App for Vegetarian
Restaurant Guide
Clients can find vegan and vegetarian restaurants locally or while traveling using this iPhone/iPod touch app that has the world's largest international listing of healthful eateries. Learn more »


Today's Dietitian is mobile for iPhone, iPad, and Android users! Visit www.TodaysDietitian.com/digital on your phone's browser to view the mobile version of this issue and bookmark us for future issues.



You will need Adobe Flash Player to view your digital issue. Go here for a free download.



Brighten the Holidays With Tasty Whole Grain Desserts



Who says healthful foods can't taste delicious?

This holiday season you can tell clients two pieces of information about whole grains and alternative whole grains such as amaranth, barley, oats, and quinoa: They can help lower cholesterol and, therefore, the risk of cardiovascular disease, and there's a host of delicious holiday dessert recipes they can make for themselves and their families.

In this month's E-News Exclusive, Today's Dietitian discusses the lipid-lowering effect of whole grain foods and the research behind it, and provides recipes for pumpkin pie, cookies, and more.

I wish everyone a happy holiday season with friends and family. Remember to visit the Today's Dietitian website at www.TodaysDietitian.com to read the digital edition of the December issue for more seasonal articles and holiday recipes. We welcome your feedback at TDeditor@gvpub.com. And follow Today's Dietitian on Facebook and Twitter too!

— Judith Riddle, editor



'Tis the Season for Heart-Healthy Whole Grains


By Maura Keller

Here's a discussion about the lipid-lowering effect of whole grain foods, the research supporting it, and holiday dessert recipes for health-conscious clients.

For years, RDs and other healthcare professionals have been touting the fact that a diet rich in whole grains, especially the grains that contain soluble fiber, are essential for heart health.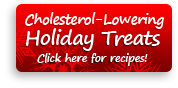 "Soluble fiber dissolves in water and can be found in many fruits, nuts, flax, oats, legumes, and bran," says Kristin Kirkpatrick, MS, RD, LD, wellness manager for the Wellness Institute at Cleveland Clinic. "Many studies have linked consumption of soluble fiber with lowering LDL cholesterol."

Full Story »



This holiday season, we're offering professionals a way to save on getting someone in your profession (including yourself!) a present that truly enriches its recipient—all year long—with our Green December offer!

Visit our Gift Subscription Page and sign someone (or yourself) up for a one year subscription for the special price of just $11.25!



Dairy, Protein Improves Bone Health in Obese Women Dieters



A recent study accepted for publication in The Endocrine Society's Journal of Clinical Endocrinology & Metabolism found that the consumption of dairy foods and a higher protein intake resulted in improvements in markers of bone formation and reductions in markers of bone degradation in overweight and obese young women over 16 weeks of diet- and exercise-induced weight loss.

Previous studies have shown that higher body weight is associated with greater bone mass and that weight loss through dieting can adversely affect bone health. While the individual effects of dairy, calcium, protein, and exercise on bone during weight loss have been studied in premenopausal women, no previous trial has combined all these strategies together into one study to support bone health.

Read More »




The Mediterranean Ways


According to an article in the Los Angeles Times, there's more than one way to eat like a Mediterranean.



Marketers Aim to Meet New Eating Habits


As people stop eating dinner at the traditional dinnertime and instead have it at breakfast time, companies are working to satisfy their appetites, reports
USA Today.




Have a product or service you want to market to dietitians and nutritional professionals or an open position that you need to fill quickly? Today's Dietitian offers many flexible advertising programs designed to maximize your results. From print advertising to e-newsletter sponsorships, website advertising to direct mail opportunities, Today's Dietitian helps achieve your goals. E-mail our experienced account executives today for more information or call 800-278-4400!

AlliedHealthCareers.com is the premier online resource to recruit nutrition professionals. Post your open positions, view resumes and showcase your facility's offerings all at AlliedHealthCareers.com!