Continuing Education
Learn about genetically modified soy in this month's issue of Today's Dietitian. Read the "Today's CPE" article, take the 10-question online test, and earn two CPEUs!

Click here for details.


Other Nutrition News
Soy May Benefit Breast Cancer Prevention
According to research reported in USA Today, eating isoflavone-containing soy products lowers the risk of invasive breast cancer by 30%.
Lowering Salt Intake in Teens
To trim down the amount of sodium teens ingest per day is easy—if you can stop them from eating fast food, says the Chicago Tribune.


Advertising Opportunities
Have a product or service you want to market to dietitians and nutritional professionls or an open position that you need to fill quickly? Today's Dietitian offers many flexible advertising programs designed to maximize your results. From print advertising to e-newsletter sponsorships, website advertising to direct mail opportunities, Today's Dietitian helps achieve your goals.
E-mail our experienced account executives today for more information or call 800-278-4400!
AlliedHealthCareers.com is the premier online resource to recruit nutrition professionals. Post your open positions, view resumes and showcase your facility's offerings all at AlliedHealthCareers.com!
To unsubscribe from this mailing list, simply send a message to TD_Newsletter@gvpub.com with "Unsubscribe" in the subject line.
To change your e-mail address, please visit our website to unsubscribe your old address and sign up with your new one.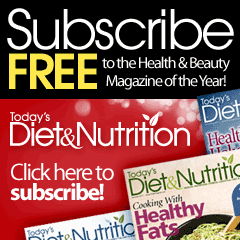 Gift Shop
Whether you're searching for yourself or for gifts to give professional colleagues, show your professional pride with quality nutrition-themed items like shirts, coffee mugs, tote bags, mouse pads and more. It's easy and affordable on the Today's Dietitian online Gift Shop. Check out our secure online shop today or call toll-free 877-809-1659 for easy and fast ordering.


Editor's E-Note

If you were like many Americans, mid-October found you glued to the television (or even your laptop) as rescue workers took great care bringing the now-famous Chilean miners to the Earth's surface, delivering them into the loving arms of family and friends. And if you were like many RDs, you may have wondered what their nutrition looked like during their months underground.
This month's E-News Exclusive by freelance writer Lindsey Getz offers an overview of what the miners' diet consisted of and offers viewpoints from an American Dietetic Association (ADA) spokesperson concerning the adequacy of the nutrients that officials provided these men during their entrapment.
Did you travel to the ADA's Food & Nutrition Conference & Expo November 6 to 9 in Boston? We'd love to hear about some of the educational sessions you attended. Share your feedback on our Facebook page and we may include your comments in an upcoming print edition. Step up and let your voice be heard.
— Heather W. Gurk, editor


Don't have your copy of TD? Read our digital issue online!
Now you have access to all the news, articles, and professional insights found in the print magazine anytime via our digital edition. The December digital issue is now posted on our website at www.TodaysDietitian.com/digital.



E-News Exclusive
Nutrition Down Under — RD Assesses How the Chilean Miners Met Their Nutritional Needs While Trapped
By Lindsey Getz
After being trapped underground for more than two months, all 33 Chilean miners were finally brought to safety on October 13. One by one, the men were shuttled upward through a specially designed steel capsule, receiving a hero's welcome upon surfacing. Today, people continue to applaud the miners wherever they go. Certainly the men went through quite an ordeal to survive their confinement, which raised interest among dietitians concerning how they met their nutritional needs. Many believe the miners' strategic diet played a role in their overall health and survival.
Manuel Villacorta, RD, owner of EatingFree.com and an American Dietetic Association spokesperson, says the items on the miners' menu were a response to the stressful state their bodies were under—similar to the foods that soldiers at war eat. The miners' diet included foods rich in protein and carbohydrates, such as stroganoff with pasta primavera and meat-stuffed cabbage. NASA was brought in to consult on the diet, pulling from its expertise in supporting astronauts. The Chilean Ministry of Health approved the menu items before they were sent down to the men in a special 4-inch tube, traveling more than 2,000 ft below the earth's surface.


Field Notes
Vitamin D Deficit Doubles Risk of Stroke in Whites but Not Blacks
Low levels of vitamin D doubles the risk of stroke in whites but not blacks, according to a new report by researchers at Johns Hopkins.
Researchers say their findings, presented at the American Heart Association's recent Scientific Sessions in Chicago, back up evidence from earlier work at Johns Hopkins linking vitamin D deficiency to higher rates of death, heart disease, and peripheral artery disease in adults.
The Hopkins team says its results fail to explain why blacks, who are more likely to be vitamin D deficient due to their darker skin pigmentation's ability to block the sun's rays, also suffer from higher rates of stroke. Of the 176 study participants known to have died from stroke within a 14-year period, 116 were white and 60 were black. Still, blacks had a 65% greater likelihood of suffering such a severe bleeding in or interruption of blood flow to the brain than whites when age, other risk factors for stroke, and vitamin D deficiency were factored into their analysis.


Ask the Expert
Have a dietetics-related question that you would like an expert to answer? E-mail
TDeditor@gvpub.com
and we may feature your query!


Print Preview
In the January issue
The latest research on glutamine
Implications of baby fat
RDs play critics of food and nutrition films
Probiotics and immunity
Research on various teas