Continuing Education
Learn about often-missed eating disorders in this month's issue of Today's Dietitian. Read the "Today's CPE" article, take the 10-question online test, and earn two CPEUs!

Click here for details.


Other Nutrition News
Sodas May Be Cut From Food Stamp Program
Big food and beverage corporations are teaming with the Food Research and Action Center to fight a possible New York City ban, according to The New York Times.
A Model for Healthful Living
The Los Angeles Times reports that Health and Human Services Secretary Kathleen Sebelius visited a school to support its new salad bar and other programs to improve health.


Advertising Opportunities
Stay in front of key buyers all year long! Place a listing for your product or service in the Today's Dietitian Annual Buyers' Guide.
Decision makers turn to our comprehensive Buyers' Guide to assist them with their year-round purchasing decisions. Our guide is the ultimate reference resource providing complete product information. Take this opportunity to showcase your company, product, website, or service to our loyal audience.
This year's Buyers' Guide promises to be the largest and most comprehensive of its kind published in our industry. Be sure your company is a part of this effective guide.
YOUR LISTING INCLUDES:
2.25" x 2.75" four-color listing space complete with logo representation, up to 40 words of copy, and company contact information.
All Buyers' Guide ads are formatted nine to a page and include a 12-month online listing on our website with a link to your website -- all for only $695!
Call 800-278-4400 or e-mail sales@gvpub.com to be included in this great marketing opportunity. Download the form from our website here and contact us right away for deadlines and details on how to receive your discounted listing. Premium spots are limited -- call today!
E-mail our experienced account executives today for more information or call 800-278-4400!
AlliedHealthCareers.com is the premier online resource to recruit nutrition professionals. Post your open positions, view resumes and showcase your facility's offerings all at AlliedHealthCareers.com!
To unsubscribe from this mailing list, simply send a message to TD_Newsletter@gvpub.com with "Unsubscribe" in the subject line.
To change your e-mail address, please visit our Web site to unsubscribe your old address and sign up with your new one.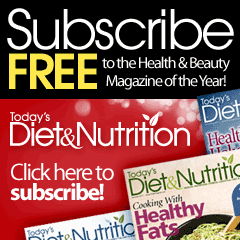 Gift Shop
Whether you're searching for yourself or for gifts to give professional colleagues, show your professional pride with quality nutrition-themed items like shirts, coffee mugs, tote bags, mouse pads and more. It's easy and affordable on the Today's Dietitian online Gift Shop. Check out our secure online shop today or call toll-free 877-809-1659 for easy and fast ordering.



Editor's E-Note

They may be babies, but they're certainly not newborns to the food world. Produce aisles in grocery stores across the country have featured baby carrots for years. But that's not stopping growers from embarking on a new campaign marketing these bite-size orange beauties to today's children, many of whom likely bypass the fruit bowl and vegetable drawer and head straight for the cookie jar when they get home from school.
What does the campaign promote and what messages is it sending to kids? Of interest, how are your colleagues reacting to these marketing efforts? Get the scoop from this month's E-News Exclusive.
If you traveled to Boston for this year's Food & Nutrition Conference & Expo, share your experiences with us on our Facebook page.
— Heather W. Gurk, editor


Don't have your copy of TD? Read our digital issue online!

Now you have access to all the news, articles, and professional insights found in the print magazine anytime via our digital edition. The November digital issue is now posted on our website at www.TodaysDietitian.com/digital.


E-News Exclusive

RDs Have Mixed Feelings About New Baby Carrot Marketing Campaign
By Christin L. Seher, MS, RD, LD
What's crunchier than chips, more orange than cheese puffs, and popular enough to make it into a recent broadcast of Saturday Night Live's "Weekend Update"?
I'll bet baby carrots weren't the first food that entered your mind.
A new marketing campaign, introduced by "a bunch of carrot farmers," is taking a bite out of other snack food companies' playbooks, encouraging younger audiences to eat their vegetables by framing baby carrots as the hot new orange food. Using the slogan "eat 'em like junk food," America's carrot farmers are hoping to rebrand this tiny vegetable into the next big thing.
The multifaceted campaign includes carrots packaged and sold like junk food, social media advertising through Facebook and Twitter, and a series of commercials depicting baby carrots as extreme, futuristic, and—yes—even sexy. Their newly launched interactive website at www.babycarrots.com includes "snacktacular TV" with skits featuring characters Chip and Abdul raving about carrots' awesomeness.


Field Notes
Vitamin B12 May Reduce Risk of Alzheimer's Disease

A new study shows that vitamin B12 may protect against Alzheimer's disease, adding more evidence to the scientific debate about whether the vitamin is effective in reducing the risk of memory loss. The research was recently published in Neurology.

"Our findings show the need for further research on the role of vitamin B12 as a marker for identifying people who are at increased risk of Alzheimer's disease," says study author Babak Hooshmand, MD, MSc, of the Karolinska Institutet in Stockholm, Sweden. "Low levels of vitamin B12 are surprisingly common in the elderly. However, the few studies that have investigated the usefulness of vitamin B12 supplements to reduce the risk of memory loss have had mixed results."


Ask the Expert
Have a dietetics-related question that you would like an expert to answer? E-mail
TDeditor@gvpub.com
and we may feature your query!

Question:
I have been a clinical dietitian at a nursing home for many years. Recently I have been asked to do independent consulting for a doctor's office, but I know nothing about billing for services for the different payers, including HMOs, PPOs, Medicare, and Medicaid. Who reimburses for medical nutrition therapy and how do I establish hourly rates and protocols? People with diabetes, for example, may require several sessions vs. people with other conditions. Where do I start?
Paula Hall, LD/RD
Joliet, Ill.


Nominate a Dedicated & Deserving Dietitian
To coincide with National Nutrition Month and Registered Dietitian's Day for the March 2011 issue, Today's Dietitian magazine will honor dedicated and deserving dietitians who are nominated by their peers, fellow nutrition professionals who are our readers.

Nomination Criteria:
An RD who has gone above and beyond his or her job description to make a real difference in the lives of clients or in the community.
An RD who has overcome significant challenges in his or her career and risen to new heights of success and influence.
An RD who, over time, has achieved a high standard of excellence as a nutrition professional.
Nominations close on Friday, November 19, 2010.
Click here to nominate a Dedicated & Deserving Dietitian!


Print Preview

In the December issue
The top 10 mindless eating traps
What RDs who have battled weight have learned
Evidence on food and drug interactions
List of activities to help RDs grow and succeed in the new year
Buyers' guide for 2011