Continuing Education
Learn about physical activity for toddlers in this month's issue of Today's Dietitian. Read the "Today's CPE" article, take the 10-question online test, and earn two CPEUs!
Click here for details.

Advertising Opportunities
Have a product or service you want to market to dietitians and nutritional professionls or an open position that you need to fill quickly? Today's Dietitian offers many flexible advertising programs designed to maximize your results. From print advertising to E-newsletter sponsorships, Web site advertising to direct mail opportunities, Today's Dietitian helps achieve your goals.

E-mail our experienced account executives today for more information or call
800-278-4400!

AlliedHealthCareers.com is the premier online resource to recruit nutrition professionals. Post your open positions, view resumes and showcase your facility's offerings all at AlliedHealthCareers.com!

To unsubscribe from this mailing list, simply send a message to TD_Newsletter@gvpub.com with "Unsubscribe" in the subject line.

To change your e-mail address, please visit our Web site to unsubscribe your old address and sign up with your new one.
Other Nutrition News
FDA to Target Food Labeling Claims?
The administration wonders whether the front-of-package check marks and other nutrition rating symbols are confusing the public and aims to correct any inaccuracies, says USA Today.
Food Insecurity's Scary Statistics
Yes, world hunger is a massive concern. "The figure topped the 1 billion mark in June," reports MSNBC.

Editor's E-Note

TV producer and visionary Joan Ganz Cooney once said, "There is a young and impressionable mind out there that is hungry for information. It has latched on to an electronic tube as its main source of nourishment."
Of course, that electronic tube is television, and the young, impressionable mind could belong to none other than a child, whose mind is ripe for molding.
That quote still rings true—and perhaps louder than ever before. Today's children spend globs of time watching cartoons and other age-appropriate programs. But they're not only watching SpongeBob SquarePants' adventures in his pineapple under the sea; they're also staying tuned for the advertisements, many of which involve sugary foods with relatively low nutrient density.
At young ages, children may have difficulty interpreting the messages that commercials send—this is where the RD comes in. In this issue's E-News Exclusive, media literacy specialist Melinda Hemmelgarn, MS, RD, discusses the challenges families face in a media-rich culture and the ways in which dietitians can help kids better understand the messages they receive through entertainment.
Once you finish this edition of the e-newsletter, visit Today's Dietitian on Facebook!
— Heather W. Gurk, editor
E-News Exclusive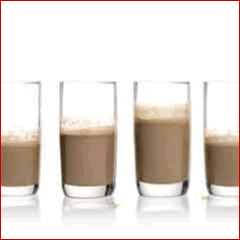 Media Literacy: Recipe for Reducing Commercial Appetites
By Melinda Hemmelgarn, MS, RD
Pervasive and powerful, media diets exert significant influence over children's food preferences, choices, and demands.1 Psychologist Susan Linn, EdD, director of the Campaign for a Commercial Free Childhood and author of Consuming Kids: The Hostile Takeover of Childhood, says, "One 30-second commercial influences the brand preferences of children as young as 2."
Pediatricians have voiced concern over commercial media for more than a decade, claiming "television and other media represent one of the most important and underrecognized influences on children and adolescents' health and behavior..." and "their impact should be eliciting serious concern..." 2

Field Notes
High Fructose Intake Associated With Hypertension
A diet high in fructose increases the risk of developing hypertension, according to a paper presented at the American Society of Nephrology's annual meeting. The findings suggest that cutting back on processed foods and beverages that contain high fructose corn syrup (HFCS) may help prevent hypertension.
Over the last 200 years, the rate of fructose intake has directly paralleled the increasing rate of obesity, which has increased sharply in the last 20 years since the introduction of HFCS. Today, Americans consume 30% more fructose than 20 years ago and up to four times more than 100 years ago, when obesity rates were less than 5%. While this increase mirrors the dramatic rise in the prevalence of hypertension, studies have been inconsistent in linking excess fructose in the diet to hypertension.
Gift Shop
Whether you're searching for yourself or for gifts to give professional colleagues, show your professional pride with quality nutrition-themed items like shirts, coffee mugs, tote bags, mouse pads and more. It's easy and affordable on the Today's Dietitian online Gift Shop. Check out our secure online shop today or call toll-free 877-809-1659 for easy and fast ordering.

Print Preview
In the December issue

Fatty liver disease

A preview of the 2010 dietary guidelines

Healthy holiday foods

Nutrition for firefighters

2010 Buyers' Guide