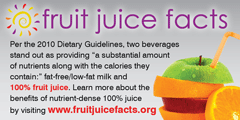 Learn about apolipoprotein E in this month's issue of Today's Dietitian. Read the Today's CPE article, take the 10-question online test, and earn two CPEUs!

Click here for details.





Autoimmunity and nutrition
Eating to reverse prediabetes
Conquering childhood obesity during the holidays
Alternative grains for a gluten-free diet
Nutritional supplements and diabetes



Have a dietetics-related question that you would like an expert to answer? E-mail TDeditor@gvpub.com and we may feature your query!



Congratulate the newest additions to the dietetic field with products designed specifically for the on-the-go nutrition professional. From messenger bags and tote bags to apparel and journals, the Today's Dietitian gift shop has the perfect gift for recent grads or the RD to be. Check out our secure online shop today or call toll-free 877-809-1659 for easy and fast ordering.


Dining Out With Food Allergies? There's an App for That


Now you can tell clients with food sensitivities that a new mobile app can help them locate restaurants that cater to their special dietary needs. Learn more »



Shopping Smart While Filling Your Cart


Clients can save more money, make better food choices, and keep up with the latest shopping trends with this new, free mobile app. Learn more »





Delicious Fare for Vegetarian, Gluten-Sensitive Clients



If you have vegetarian clients who are also gluten intolerant, you've probably heard them complain about how challenging it is to find nutritious, tasty grab-'n'-go snacks and meals while dining out. The good news is that there's a wide selection of gluten-free vegetarian meals and snacks they can make at home and order at their favorite restaurants.

In this month's E-News Exclusive, dietetic professionals discuss the challenges vegetarian, gluten-sensitive clients face and give suggestions for nutritious foods they can eat at home and when they're on the go. They provide names of well-known restaurants that cater to clients' special needs and additional resources clients can tap for more information.

Be sure to visit Today's Dietitian's website at www.TodaysDietitian.com. You'll find great new information that's relevant and reliable to daily practice. We welcome your feedback at TDeditor@gvpub.com. Enjoy the e-newsletter and follow Today's Dietitian on Facebook and Twitter!

— Judith Riddle, editor




Food Choices Abound for Vegetarian Clients With Gluten Sensitivities


By Karen Appold

Clients who adhere to a strict vegetarian diet don't always receive all the nutrients their bodies need. And when they're vegetarian and gluten sensitive, getting the right amount of vitamins and minerals seems to be even more of a challenge.

Typical vegetarians rely on wheat and other whole grains to provide the proteins needed for normal cell growth and repair. But when they remove wheat-containing products and other grains such as rye and barley, they lower their intake of B-complex vitamins, iron, and fiber, says Anne Roland Lee, MSEd, RD, LD, director of nutritional services for Dr Schar USA, Inc.

Full Story »




Childhood Obesity Task Force Must Focus on Treating Minority Children



The White House Task Force on Childhood Obesity, created by the president as part of the Let's Move! campaign, aims to solve the childhood obesity epidemic within a generation, returning the country to a rate of 5% obesity by 2030, which was the rate before childhood obesity first began to rise in the late 1970s.

In a recent University of Michigan (U-M) study, published online in Obesity Journal, researchers evaluated the balance of prevention and treatment required for achieving goals laid out by the task force's May 2010 report.

Read More »




Goody Bags Undermine Breast-Feeding


Hospitals that give away free formula to mothers of newborns are undermining a mother's determination to breast-feed, reports USA Today.



The Buzz About Caffeine and Depression


According to the Los Angeles Times, although drinking four or more cups of coffee per day comes with its own negatives, women who consume that amount are less likely to become depressed.





Have a product or service you want to market to dietitians and nutritional professionals or an open position that you need to fill quickly? Today's Dietitian offers many flexible advertising programs designed to maximize your results. From print advertising to e-newsletter sponsorships, website advertising to direct mail opportunities, Today's Dietitian helps achieve your goals. E-mail our experienced account executives today for more information or call 800-278-4400!

AlliedHealthCareers.com is the premier online resource to recruit nutrition professionals. Post your open positions, view resumes and showcase your facility's offerings all at AlliedHealthCareers.com!



Today's Dietitian is mobile for iPhone, iPad and Android users! Visit www.TodaysDietitian.com/digital on your phone's browser to view the mobile version of this issue and bookmark us for future issues.



You will need Adobe Flash Player to view your digital issue. Go here for a free download.