Continuing Education
Learn about evidence-based practice guidelines for celiac disease in this month's issue of Today's Dietitian. Read the "Today's CPE" article, take the 10-question online test, and earn two CPEUs!

Click here for details.


Other Nutrition News
Risky Additions to a Low-Carb Diet
Replacing carbs with animal proteins in the diet can result in negative consequences, according to The New York Times.
Zapping Your Spinach Clean
The Chicago Tribune reports that microwaving spinach for 4 minutes destroys E. coli, but is it still edible?


Advertising Opportunities
If you market your products and brands to dietitians, or are about to, then you know the largest annual event for nutrition professionals, the ADA's Food & Nutrition Conference & Expo (FNCE) is coming up this November in Boston.

Ensure the maximum return on your FNCE marketing investment by having a presence in our November FNCE issue of Today's Dietitian.

Our loyal audience of RDs and nutrition professionals make these two issues our most popular every year because of the content.

Advertisers who understand that the recommendations of our readers lead to sales consistently want to be in these issues to deliver their message.

E-mail our experienced account executives today for more information or call 800-278-4400!

AlliedHealthCareers.com is the premier online resource to recruit nutrition professionals. Post your open positions, view resumes and showcase your facility's offerings all at AlliedHealthCareers.com!

To unsubscribe from this mailing list, simply send a message to TD_Newsletter@gvpub.com with "Unsubscribe" in the subject line.

To change your e-mail address, please visit our website to unsubscribe your old address and sign up with your new one.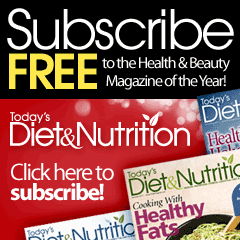 Gift Shop
Whether you're searching for yourself or for gifts to give professional colleagues, show your professional pride with quality nutrition-themed items like shirts, coffee mugs, tote bags, mouse pads and more. It's easy and affordable on the Today's Dietitian online Gift Shop. Check out our secure online shop today or call toll-free 877-809-1659 for easy and fast ordering.



Editor's E-Note
The fact that childhood obesity has reached epidemic proportions in the United States is hardly news. What is news is the launch of two significant studies exploring strategies to combat the excess weight that is putting the nation's kids at risk for heart disease, type 2 diabetes, and other chronic conditions, diseases that were previously absent in conversations about America's youths—oh, how times have changed. Read about the National Institutes of Health's new efforts in this month's E-News Exclusive.
While online, be sure to visit us on Facebook and post your feedback.
Traveling to Boston this November for the ADA's Food & Nutrition Conference & Expo (FNCE)? Be sure to stop by the Today's Dietitian booth (#3063) to introduce yourself. We love to meet our readers in person, and FNCE provides us the perfect chance to do just that. See you at the show!
— Heather W. Gurk, editor


Don't have your copy of TD? Read our digital issue online!
Now you have access to all the news, articles, and professional insights found in the print magazine anytime via our digital edition. The October digital issue is now posted on our website at www.TodaysDietitian.com/digital.



E-News Exclusive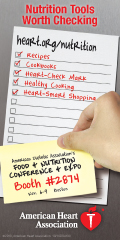 NIH-Funded Research Seeks to Prevent and Treat Childhood Obesity
The National Institutes of Health (NIH) is launching two major research efforts to examine ways to curtail the nation's childhood obesity epidemic. One will study long-term approaches to prevent or treat childhood obesity and the other will examine community efforts to reduce childhood obesity rates.
"Childhood obesity is a major public health concern. If we don't curb this widespread problem, our country will see a substantial increase in cardiovascular disease and other health issues in the years ahead," says Susan B. Shurin, MD, acting director of the National Heart, Lung, and Blood Institute (NHLBI), the lead sponsor for both programs. "Childhood is the optimal time to encourage healthy habits that kids can practice the rest of their lives."


Field Notes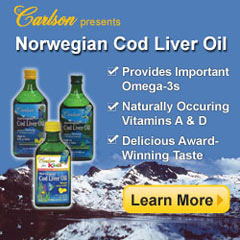 Lack of Access to Healthful Food May Contribute to Health Disparities in Kidney Disease
Processed and fast foods enriched with phosphorus additives may play a role in health disparities in chronic kidney disease (CKD), according to a study in the Journal of the American Society of Nephrology. Previously, genetics was considered the leading reason blacks are four times more likely to progress to end-stage renal disease than whites and have much higher rates of cardiovascular disease and mortality in early CKD.
Phosphorus, a mineral found naturally in foods such as milk, cheese, beans, and peanut butter, is vital for the formation of bones and teeth, as well as energy production and the formation of cell membranes. Since the kidneys excrete excess phosphate, patients with CKD may develop increased blood levels of phosphate, or hyperphosphatemia. Manufacturers add phosphates to foods to give them a longer shelf life and make them more appealing.


Ask the Expert
Have a dietetics-related question that you would like an expert to answer? E-mail
TDeditor@gvpub.com
and we may feature your query!
Question:
My husband is being treated for chronic pain due to failed back surgery/nerve damage. The pain clinic has recommended 600 mg of lipoic acid per day and although they sell it there, suggest we may find it cheaper online. I am concerned about the purity of food supplements and also questioned whether it had been proven effective. What I read suggested it was helpful in preventing further nerve damage in diabetics.
I am a retired RD and have been taught that it is difficult to know the identity of what you are purchasing and that the benefit of many such things is questionable. Now that lipoic acid, which I had not heard of, has been recommended and sells at the clinic for $30 or $40 for a month's supply, I am seeking more information.
Carolyn Curry
Retired Clinical Dietitian
Indianapolis


Nominate a Dedicated & Deserving Dietitian
To coincide with National Nutrition Month and Registered Dietitian's Day for the March 2011 issue, Today's Dietitian magazine will honor dedicated and deserving dietitians who are nominated by their peers, fellow nutrition professionals who are our readers.

Nomination Criteria:
A Registered Dietitian who has gone above and beyond his or her job description to make a real difference in the lives of clients or in the community.
An RD who has overcome significant challenges in his or her career and risen to new heights of success and influence.
An RD who, over time, has achieved a high standard of excellence as a nutrition professional.
Nominations close on Friday, November 19, 2010
Click here to nominate a Dedicated & Deserving Dietitian!


Print Preview

In the November issue
Chinese culture and food practices
The current research findings on soy
Helping new patients deal with type 2 diabetes
25 days of holiday foods
The celiac disease and thyroid disease connection