Learn about advanced cardiovascular biomarkers in lipid management in this month's issue o f Today's Dietitian. Read the Today's CPE article, take the 10-question online test, and earn two CPEUs!

Click here for details.



In the September issue

FNCE dining guide

Benefits of breakfast

Profiles of soy products

Q & A with leading school nutrition advocates

Preschool nutrition research



Have a dietetics-related question that you would like an expert to answer? E-mail TDeditor@gvpub.com and we may feature your query!



Congratulate the newest additions to the dietetic field with products designed specifically for the on-the-go nutrition professional. From messenger bags and tote bags to apparel and journals, the Today's Dietitian gift shop has the perfect gift for recent grads or the RD to be. Check out our secure online shop today or call toll-free 877-809-1659 for easy and fast ordering.


New iPad Version of Nutrition Solutions App Debuts


Dietary Software, Inc has unveiled its new Nutrition Solutions application (version 2.0) for the iPad, specially designed for dietitians and nutrition professionals who want to get the information they need in seconds on a much larger screen. Learn more »



Diabetes i-Pocket App: Jack of all Trades


The Diabetes Mellitus i-pocket from Borm Bruckmeier Publishing provides clinicians with what some consider the most current recommendations regarding diabetes treatment and management. Physicians can use the app at all levels of training. Learn more »



Have a product or service you want to market to dietitians and nutritional professionals or an open position that you need to fill quickly? Today's Dietitian offers many flexible advertising programs designed to maximize your results. From print advertising to e-newsletter sponsorships, website advertising to direct mail opportunities, Today's Dietitian helps achieve your goals. E-mail our experienced account executives today for more information or call 800-278-4400!

AlliedHealthCareers.com is the premier online resource to recruit nutrition professionals. Post your open positions, view resumes and showcase your facility's offerings all at AlliedHealthCareers.com!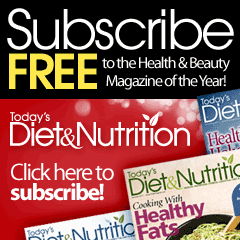 Click Here
Moderation Is Key



When I hear the adage "everything in moderation," I usually conjure up images of my eating just about any type of food I want as long as the portion is relatively small and I don't eat it too often.

Others may sprinkle one packet of sugar on their strawberries vs. three or drink one glass of wine at dinnertime instead of two. Whatever foods or beverages come to mind, moderation is the key, right?

Well, moderation doesn't just pertain to the foods we eat or the drinks we consume. Did you know that moderation is imperative when it comes to prescribing statin therapy? Statins are highly acclaimed for successfully lowering serum cholesterol levels when a low-fat diet and regular exercise don't quite do the trick. They prevent plaque buildup in artery walls, protecting against blocked blood vessels, heart attack, and stroke in patients with risk factors for cardiovascular disease (CVD) and in patients who have CVD.

This month's E-News Exclusive discusses the benefits of statin therapy in lowering cardiovascular events as well as previously published study findings suggesting that intensive-dose statin therapy is linked to an increased risk of new-onset diabetes compared with moderate-dose therapy. Read on to find out the particulars.

— Judith Riddle, editor




Intensive-Dose Statin Therapy Associated With Increased Risk of Diabetes



An analysis of data from previously published studies indicates that intensive-dose statin therapy is associated with an increased risk of new-onset diabetes compared with moderate-dose therapy, according to a study in The Journal of the American Medical Association.

Compared with placebo, statin therapy significantly reduces cardiovascular events among individuals with and without a history of diabetes mellitus. Recently, findings from several trials comparing intensive- to moderate-dose statin therapy suggested an excess risk of new diabetes among those treated with intensive statin regimens, according to background information in the article.

"Given the cardiovascular benefits of statins and the likely increasing use of intensive statin regimens, it's important to quantify any potential long-term risks to enable physicians and patients to make informed choices," the authors wrote.

Full Story »




Modified-Fat Diet Key to Lowering Heart Disease Risk



The debate contrasting good fat vs. bad fat continues as a new evidence review, appearing in The Cochrane Library, finds a modified-fat diet may be the real key to someone reducing his or her risk of heart disease. A low-fat diet replaces saturated fat with starchy foods, fruits, and vegetables, while a modified-fat diet replaces saturated fat with monounsaturated and polyunsaturated fats.

Lead review author Lee Hooper, MD, says she and her colleagues were surprised there was such a clear difference between the effects of the diets.

Hooper, a senior lecturer in research synthesis and nutrition at Norwich Medical School at the University of East Anglia in England, said the main theory has been that eating saturated fat raises LDL cholesterol, which increases the risk of cardiovascular disease and therefore should make the effects of a low-fat diet and a modified-fat diet very similar.

Read More »



FNCE 2011: SEE YOU IN SAN DIEGO!



Today's Dietitian will be present and accounted for at the upcoming ADA Food & Nutrition Conference & Expo (FNCE) in San Diego from September 24-27. Before you head to the show, let us help you make your evening plans and dinner reservations with the suggestions for food and fun in our host city found in our annual FNCE Digital Dining & Entertainment Guide.

During the Expo from Sunday to Tuesday, we'll be anchored on the show floor at Booth #1428, where we invite all attendees to stop by, meet our new Editor, Judy Riddle, pick up our two conference issues, renew your subscription and...drop off your Official NuTrivia Game Card!

Where would you go if you could go anywhere in the world? Play NuTrivia at FNCE 2011 and you may have to make that decision! We've partnered once again with the ADA to bring the exciting and fun trivia game for nutrition professionals to the FNCE show floor. Find our official game card in your FNCE tote bag, play the game by visiting the booths of 20 outstanding companies during the show and be eligible to win our Grand Prize, a $1,000 travel card, which can be applied to any vacation you choose to bookthrough the national travel agency Liberty Travel. In addition to this amazing Grand Prize, 2nd Prize (sponsored by Vitalah) is a FREE registration for FNCE 2012 while the 3rd Prize winner receives a FREE 2012 membership to the ADA.

If you're not attending the show this year, we'll be posting updates on our Facebook page and live Tweeting during the show, so follow us on Twitter.




Salt: A Touch Too Much
A Los Angeles Times article looks at the association between sodium and potassium.



Too Much of a Good Thing?


The Chicago Tribune reports on the reaction to an editorial that calls drinking six to eight cups of water per day "nonsense."


Today's Dietitian is mobile for iPhone, iPad and Android users! Visit www.TodaysDietitian.com/digital on your phone's browser to view the mobile version of this issue and bookmark us for future issues.



You will need Adobe Flash Player to view your digital issue. Go here for a free download.