Print Preview
In the August issue

Current research on multivitamins

Eating healthy with diabetes and celiac disease

Searching for the perfect diabetes-friendly diet

How schools accommodate kids with food allergies

New advances and technology in hospital foodservice
Advertising
Have a product or service you want to market to dietitians and nutritional professionls or an open position that you need to fill quickly? Today's Dietitian offers many flexible advertising programs designed to maximize your results. From print advertising to E-newsletter sponsorships, Web site advertising to direct mail opportunities, Today's Dietitian helps achieve your goals.

E-mail our experienced account executives today for more information or call
800-278-4400!

AlliedHealthCareers.com is the premier online resource to recruit nutrition professionals. Post your open positions, view resumes and showcase your facility's offerings all at AlliedHealthCareers.com!

To unsubscribe from this mailing list, simply send a message to TD_Newsletter@gvpub.com with "Unsubscribe" in the subject line.

To change your e-mail address, please visit our Web site to unsubscribe your old address and sign up with your new one.
Gift Shop
Whether you're searching for yourself or for gifts to give professional colleagues, show your professional pride with quality nutrition-themed items like shirts, coffee mugs, tote bags, mouse pads and more. It's easy and affordable on the Today's Dietitian online Gift Shop. Check out our secure online shop today or call toll-free 877-809-1659 for easy and fast ordering.
Other Nutrition News
A Closer Look
Scientists are reexamining the findings from two major type 2 diabetes studies, according to a USA Today report on the ADA's 69th Scientific Sessions.
Fruit and Grilled Chicken, Please
The New York Times reports on a survey that says restaurants' healthier options are gaining favor among the younger set.
Editor's E-Note

The concept of healthcare reform is exciting, provided that policymakers address the right components. You would no doubt agree that nutrition services, including referrals to RDs, play an enormous role in preventing the most prevalent health conditions of our time—and they need direct reimbursement!
According to a new national survey, physicians agree and say that if nutrition services were better covered, they would refer their patients with chronic diseases for these services more often. Now wouldn't that be nice.
Check out the details of this survey in our E-News Exclusive.
— Heather W. Gurk, editor
E-News Exclusive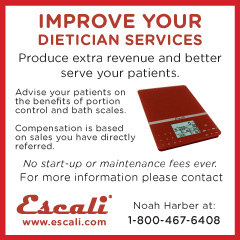 Physicians Say Healthcare System Should Emphasize Nutrition

Ninety-six percent of primary care physicians believe the nation's healthcare system should place more emphasis on nutrition to treat and manage chronic disease, according to a new survey. However, only 12% believe physicians currently pay significant attention to nutrition in the context of chronic disease, according to a briefing on Capitol Hill attended by nutrition advocates, physicians, researchers, and chronic disease organizations.

"The good news is physicians know nutrition therapy can improve health outcomes," said Jane V. White, PhD, LDN, RD, FADA, of the department of family medicine at the University of Tennessee Graduate School of Medicine, who partnered with the American Dietetic Association (ADA) on the survey. "Now, it's time to move nutrition services to the forefront in prevention and management of chronic disease."
Field Notes

Obese Women With PCOS Can Lose Weight With a Doctor's Help

Simple weight loss advice from a physician and regular follow-up helped women who were obese and diagnosed with polycystic ovary syndrome (PCOS) lose a substantial amount of weight, a new study found. The results were presented at The Endocrine Society's annual meeting in Washington, D.C.

PCOS is a common hormone imbalance in young women that raises the risk of infertility, obesity, type 2 diabetes, and heart disease. Past research shows that modest weight loss—at least 5% of body weight—can significantly improve PCOS symptoms and reduce the risk of diabetes and heart disease.
Ask the Expert
Have a dietetics-related question that you would like an expert to answer? E-mail TDeditor@gvpub.com and we may feature your query!
Question:
What are your thoughts on dairy intake for those who are suffering from Crohn's disease?
Lei Gartland, MA, RD
Syracuse, Ind.
Response:
Some people with Crohn's disease find that symptoms such as diarrhea, abdominal pain, and gas improve when they limit or eliminate dairy products. Their bowel inflammation may cause a lactase deficiency, so consuming a low-lactose or lactose-free diet may provide relief of their symptoms.

However, there may be a bacterial connection with Crohn's and dairy. Mycobacterium avium paratuberculosis (MAP) is commonly found in milk products and survives pasteurization. Further, this bacterium is the cause of Johne's disease in dairy cows, which presents very much like Crohn's disease in humans. MAP has been found with far greater frequency in patients with Crohn's disease than in those with ulcerative colitis or controls. However, correlation is not proven causation, and MAP has not yet been proven to be a causative agent in Crohn's.1

While there are sound dietary suggestions for people with Crohn's disease, there is no one scientifically proven diet that works for every person with Crohn's. This is a case where one size does not fit all. Help your clients identify specific foods that trigger gastrointestinal symptoms and then plan a nutritious diet that avoids these trigger foods. Nutrition professionals should also help their clients find foods that replace the nutrients contained in the now excluded food(s).
— Carol M. Meerschaert, MBA, RD, is a writer and a consultant in Paoli, Pa. You can reach her at carol@meerschaert.us.

1. Sartor RB. Does Mycobacterium avium subspecies paratuberculosis cause Crohn's disease? Gut. 2005;54(7):896-898.
Continuing Education
Learn about pediatric food allergies in this month's issue of Today's Dietitian. Read the "Today's CPE" article, take the 10-question online test, and earn two CPEUs! Click here for details. Sizzling Summer Special in August! Save on TCPE credits next month and buy one exam for the Special price of $25, a 3-pack Special for $59 and a 6-pack for only $109!