Continuing Education
Learn about nutrition for optimum athletic performance in this month's issue of Today's Dietitian. Read the "Today's CPE" article, take the 10-question online test, and earn two CPEUs!

Click here for details.


Other Nutrition News
High Fiber for a Long Life
A new study has found a strong link between a high-fiber diet and decreased risk of death from cardiovascular, infectious, and respiratory diseases, according to The New York Times.
New Weight-Loss Surgeries No Better Than Old
A pair of studies finds that gastric bypass is more effective than some newer procedures and with no greater risks, reports the Chicago Tribune.


Advertising Opportunities
Have a product or service you want to market to dietitians and nutritional professionals or an open position that you need to fill quickly? Today's Dietitian offers many flexible advertising programs designed to maximize your results. From print advertising to e-newsletter sponsorships, website advertising to direct mail opportunities, Today's Dietitian helps achieve your goals.
E-mail our experienced account executives today for more information or call 800-278-4400!
AlliedHealthCareers.com is the premier online resource to recruit nutrition professionals. Post your open positions, view resumes and showcase your facility's offerings all at AlliedHealthCareers.com!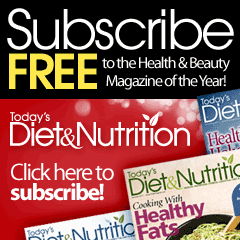 Ask the Expert
Have a dietetics-related question that you would like an expert to answer? E-mail
TDeditor@gvpub.com
and we may feature your query!



Editor's E-Note

Happy National Nutrition Month!
As dietitians are well aware, exercise is an integral part of a healthful lifestyle, one that people, especially those with a chronic health condition such as type 2 diabetes, should not neglect.
But how do you best motivate clients and patients to put a stop to their sedentary lifestyles and get moving? This month's E-News Exclusive highlights strategies dietitians can use to inspire people with type 2 diabetes to integrate some healthful activity into their routine. Setting clients on their way with simple, attainable, and individualized goals is just one key motivator that this article discusses.
Enjoy reading "Jump-Starting Motivation to Exercise in Clients With Type 2 Diabetes" as well as this edition's Field Notes and Other Nutrition News sections. Also, be sure to check out Today's Dietitian's March print issue, which honors National Nutrition Month by profiling 10 exceptional dietitians, as nominated by our readers.
— Heather W. Gurk, editor


Don't have your copy of TD? Read our digital issue online!
Now you have access to all the news, articles, and professional insights found in the print magazine anytime via our digital edition. The March digital issue is now posted on our website at www.TodaysDietitian.com/digital.


E-News Exclusive

Jump-Starting Motivation to Exercise in Clients With Type 2 Diabetes
By Lori Zanteson
Engaging in exercise is one of the most powerful ways to manage type 2 diabetes. And as the disease's prevalence and incidence increases, it's even more important for people to get moving. Counseling by a healthcare professional encourages higher levels of activity, and dietitians are in a unique position to effect change by helping clients get motivated.
Detail the Benefits of Exercise
Dietitians work to ensure their clients with type 2 diabetes are aware of the need to exercise, but it's also important to make sure they understand the specific benefits they can expect to gain, says Hope Warshaw, MMSC, RD, CDE, author of The Real Life Guide to Diabetes. They need to know that "exercise can be as powerful as glucose-lowering medication," she explains, adding that physical activity lowers blood glucose levels and blood pressure and can even raise HDL cholesterol levels and lower triglycerides.


Field Notes
PCBs May Affect In Vitro Fertilization Outcomes
According to a new study published in Environmental Health Perspectives, serum polychlorinated biphenyls (PCBs) at concentrations found in the general U.S. population are associated with the failure of fertilized embryos to implant in the uterus after in vitro fertilization (IVF). This study may help explain earlier reports of impaired reproduction and increased time to pregnancy among women exposed to PCBs.
"Our findings provide insight into a specific time point following conception that determines whether a pregnancy will occur that may be particularly sensitive to PCB exposure," says lead author John Meeker, ScD, CIH.
PCBs were banned in the United States and other developed countries in the 1970s, but they persist in the environment due to prior widespread use and resistance to breakdown. Exposure to PCBs occurs mainly through contaminated foods and is associated with adverse health effects, including negative impacts on reproduction.


Print Preview

In the April issue
How parent-child interactions during feeding affect kids' weight
Combating digestive health myths and misinformation
Rice's health benefits
2011 Gluten-Free Buyers' Guide


Gift Shop
To commemorate Nation Nutrition Month, show your professional pride with quality nutrition-themed items like shirts, coffee mugs, tote bags, mouse pads and more. It's easy and affordable on the Today's Dietitian online Gift Shop. Check out our secure online shop today or call toll-free 877-809-1659 for easy and fast ordering.