In This Issue...



Other Social Work News...
Caregivers Dealing With Veterans' Severe Injuries
When soldiers return home with debilitating combat injuries, their caregivers often struggle with the situation, according to an article from USA Today.
Holocaust Survivors Battle Depression
MSNBC.com reports on survey findings indicating that a majority of Israel's Holocaust survivors suffer from depression, sleeping disorders, or other emotional distress.
New Rules Promise Better Mental Health Coverage
The New York Times reports on legislation that is helping mental health care gain parity with physical healthcare.
When Housing the Homeless Isn't Enough
The Philadelphia Inquirer reports on an organization that first provides basic housing then helps individuals tackle other issues such as mental health conditions, substance abuse, and disabilities.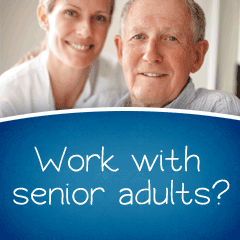 Continuing Education
Social Work Today's CE program has offered hundreds of social workers from across the country the opportunity to earn CEs from the comfort of their homes or offices.
Simply read an issue of the magazine, complete the online exam or the printed exam published in the magazine, and earn 2 CE credits! PLUS you have the opportunity to earn CE credits from past issues, too! See what all the talk is about—visit www.SocialWorkTodayCE.com today for more information!


Gift Shop
Whether you're searching for yourself or for gifts to give professional colleagues, show your professional pride with quality social work themed items like shirts, coffee mugs, tote bags, mouse pads and more. It's easy and affordable on the Social Work Today online Gift Shop. Check out our secure online shop today or call toll-free 877-809-1659 for easy and fast ordering


Editor's E-Note

Knowledge is power and social workers can empower clients to better understand physical and mental health conditions by continuing to stay informed and expand their awareness of available therapies. While continued research and more data on these conditions are essential, this month's E-News Exclusive will briefly get you up-to-date on information about chronic fatigue syndrome and fibromyalgia. (Note: National Fibromyalgia Awareness Day is May 12.)
The SWT Web site continues to grow, so if you haven't done so already, visit us at www.SocialWorkToday.com. Also, click here to become a member of our Facebook page.
I hope 2010 is off to a great start for you!
Keep following Social Work Today online and in print.
— Marianne Mallon, editor


E-News Exclusive
Chronic Fatigue Syndrome and Fibromyalgia Are Real
By Jill Pitcher, DO
Chronic fatigue and its painful counterpart fibromyalgia are real disorders that cause physiologic changes in the body and can be effectively helped by an integrated approach to treatment. They are steadily becoming a recognized disorder after having historically been downplayed or ignored by many doctors. The difficulty in gaining this recognition is due to the inability to objectively identify a reproducible cause of all the varied symptoms associated with the condition. Western medicine has a need for a test that proves the existence of any particular disease or disorder to validate it. But despite this barrier, the Centers for Disease Control and Prevention (CDC) did formally recognize chronic fatigue syndrome in November 2006.


Recently in Social Work Today…

Helping Families Affected by Alzheimer's
These families face many emotional and spiritual challenges as they witness their loved one's decline. Social workers can guide and support them on this vulnerable journey of compassion and caring. Read more »
Integrating Behavioral Health and Primary Care —
The Person-Centered Healthcare Home
High rates of morbidity among patients with serious mental illness demand new models of care delivery that integrate behavioral health and primary care. Read more »
Animal-Assisted Therapy in Hospice Care
Animals are commonly used in therapy in hospital settings, elder living facilities, and educational settings. Now, this therapeutic modality is expanding into hospice care. Read more »


Ask the Expert
Have a question you want answered by one of our social work experts? Send your question to
SWTeditor@gvpub.com
and it may be featured in an upcoming e-newsletter or print issue.


Advertising Opportunities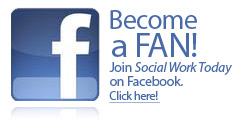 Have a product or service you want to market to social work professionals, or an open position that you need to fill quickly? Social Work Today offers many flexible advertising programs designed to maximize your results. From print advertising to E-newsletter sponsorships, Web site advertising to direct mail opportunities, Social Work Today helps achieve your goals.

E-mail our experienced account executives today for more information or call 800-278-4400!

AlliedHealthCareers.com is the premier online resource to recruit social work professionals. Post your open positions, view resumes and showcase your facility's offerings all at AlliedHealthCareers.com!

To unsubscribe from this mailing list, simply send a message to SWT_Newsletter@gvpub.com with "Unsubscribe" in the subject line.

To change your e-mail address, please visit our Web site to unsubscribe your old address and sign up with your new one.