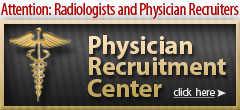 Worth Repeating…
"Fee-for-service medicine is like a la carte dining. Bundling is like a fixed-price dinner. You can get a fixed-price dinner at a restaurant across from my office in Georgetown for $40, which includes salad, soup, entrée, and dessert. Your choices are limited, but if you ordered a la carte, the same things would cost $75. If patients want unlimited choice, they should be willing to pay for it themselves."
— Jean M. Mitchell, a professor of public policy and a health economist at Georgetown University, as reported in The Washington Post
Other Radiology News…
Does Vertebroplasty Work?
A couple new studies suggest that vertebroplasty may not be as beneficial as was previously believed, reports The New York Times.
Self-Referrals
The Washington Post recently looked at the issue of imaging self-referrals.
Questions About CyberKnife
Questions about the effectiveness of CyberKnife treatments for prostate cancer may lead to a battle over insurance payments, according to the Philadelphia Inquirer.
Let Me Count the Ways
CNN reports on a PriceWaterhouseCoopers survey of medical professionals that enumerates where money is being wasted the most in our healthcare system.
Editor's E-Note

As the nationwide healthcare reform debate continues, it seems every corner of medicine is making its case for why it should be better reimbursed, left alone, or minimally affected by healthcare reform. This month's E-News Exclusive reports on information from an ASTRO study on how the proposed cuts would negatively affect radiation oncology. It's human nature to see what affects you as the most important; we all do it. It's one of the challenges to healthcare reform. There won't and shouldn't be a quick fix; I just hope the issue stays near the front of people's consciousness so Congress keeps working on it.

Also, don't forget to check out our new Physician Recruitment Center. It was created to help physicians and administrators specializing in radiology find new employment opportunities, as well as for physician recruiters to post currently available opportunities for these professionals. It's the latest online service from Radiology Today.
— Jim Knaub, editor
E-News Exclusive

ASTRO Survey: Medicare Cuts Threaten Radiation Oncology Centers
On July 13, the Centers for Medicare & Medicaid Services announced proposed changes to the Medicare policies and payment rates for physician services, including radiation oncology, which would cut payments to radiation therapy services by nearly 20%. Community cancer centers, particularly those in rural and suburban areas, would be hardest hit. Running 2008 claims data from a sample of practices across the country shows overall impacts between 18% and 31% on the average practice, with some services receiving payment cuts by up to 44%. If approved, these cuts would take effect on January 1, 2010. A survey by the American Society for Radiation Oncology (ASTRO) found that these cuts would cause many cancer centers to close, stop accepting Medicare patients, lay off support staff, and reduce services to cancer patients.
Recently in
Radiology Today…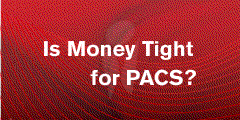 Caution — Lack of Imaging Isotopes May Be Hazardous to Patients
Downtime caused by aging reactors forces imagers to cope with a Mo-99 shortage. Read more
How Much Imaging Training Does a Radiation Oncologist Need?
Radiology and radiation oncology share a past, but what part will advances in diagnostic radiology play in radiation oncology's future? Read more
Ultrasound IGRT — Looking to Improve Prostate and Breast Cancer Treatments
A new ultrasound system helps clinicians better visualize treatment targets without added radiation. Read more
Closer to Home
Getting the best cancer treatment is every patient's goal, but many may not realize that they don't have to go far to get it. Read more

Advertising Opportunities
Have a product or service you want to market to radiology professionals or an open position that you need to fill quickly? Radiology Today offers many flexible advertising programs designed to maximize your results. From print advertising to E-newsletter sponsorships, Web site advertising to direct mail opportunities, Radiology Today helps achieve your goals.
E-mail our experienced account executives today for more information or call 800-278-4400!
AlliedHealthCareers.com is the premier online resource to recruit radiology professionals. Post your open positions, view resumes and showcase your facility's offerings all at AlliedHealthCareers.com!
To unsubscribe from this mailing list, simply send a message to RT_Newsletter@gvpub.com with "Unsubscribe" in the subject line.
To change your e-mail address, please visit our Web site to unsubscribe your old address and sign up with your new one.
Gift Shop
Radiology Today's online gift shop features a wide variety of items for radiology professionals. Choose from t-shirts, journals, clocks, buttons, mouse pads, and much more! Check out our secure online shop today or call toll-free 877-809-1659 for easy and fast ordering.