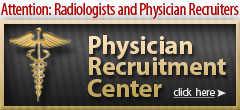 Other Radiology News…
More Focused Ultrasound
Ultrasound technology that makes submarines more difficult to detect may eventually lead to higher quality fetal ultrasounds, according to MSNBC.
Is Obama Wrong About Healthcare Reform?
A Newsweek columnist thinks President Obama is looking in the wrong places to reform our healthcare system.
Rad Therapy Irregularities at Philly VA
The New York Times recently reported that prostate brachytherapy at the VA hospital in Philadelphia was performed incorrectly on several occasions.
CT Scan Gives Mummy a Sex Change
A 2,000-year-old mummy, once thought to be a woman, was determined by scientists to be a man after a CT exam. Check it out on National Geographic's Web site.
Worth Repeating…
"I'm not easily shaken. But this is a very anxiety-provoking story."
— Leon S. Malmud, MD, chairman of a nuclear commission advisory committee, as quoted in a New York Times article about prostate brachytherapy irregularities at the Philadelphia VA hospital
Gift Shop
Radiology Today's online gift shop features a wide variety of items for radiology professionals. Choose from t-shirts, journals, clocks, buttons, mouse pads, and much more! Check out our secure online shop today or call toll-free 877-809-1659 for easy and fast ordering.
Editor's E-Note

This month's E-News Exclusive matters because the subject kills two birds with one radioactive stone. The FDA approving a new source of technetium-99m from low-enriched uranium offers help for the radioisotope shortage plaguing nuclear medicine and reduces the risk of highly enriched uranium falling into the wrong hands. Added value is an especially good thing these days. While this news helps here and now, check out the long-term concerns surrounding the medical isotope supply, as reported in Radiology Today.
E-News Exclusive

FDA Approves Low-Enriched Uranium Mo-99 Source

The first source of molybdenum-99 (Mo-99) from low-enriched uranium has been approved for use in the United States and Canada. Lantheus Medical Imaging, Inc recently announced that the FDA and Health Canada have approved the company's supplemental New Drug Application for FDA and Supplemental New Drug Submission for Health Canada to qualify the Australian Nuclear Science and Technology Organisation (ANSTO) as a valid supplier for Mo-99 made from low-enriched uranium.
Mo-99 is the parent isotope of technetium-99m (Tc-99m), the medical isotope used in approximately 80% of all nuclear medicine procedures. Mo-99 is produced by the irradiation of uranium "targets" in a reactor. There are only few major worldwide suppliers of Mo-99, and most use highly enriched uranium targets. A primary objective of the National Nuclear Security Administration's Global Threat Reduction Initiative is to minimize proliferation risks by phasing out the use of highly enriched uranium in civil commerce. ANSTO is the only global commercial supplier that currently produces Mo-99 using low-enriched uranium targets.
(FULL STORY)
Recently in
Radiology Today…

Implementing Digital Radiography
Digital radiography can help medical facilities do more with less. Experts offer some tips to ease the transition. Read more
Angioplasty vs. CABG — A Look at Comparative Effectiveness Research
Comparative effectiveness research aims to provide clinical data to guide care, but interpreting the findings of such studies can be tricky. Read more
Golden Target — Scientists Investigate Hollow Nanospheres to Ablate Melanoma Cells
Researchers are studying a targeted treatment that may potentially allow them to destroy melanoma tumors while minimizing damage to surrounding tissues. Read more
Lean Management — Wisconsin's ThedaCare Improves Its Radiation Oncology Care Process
A radiation oncology department dramatically reduced its wait times by asking patients how to improve care. Read more
Advertising Opportunities
Have a product or service you want to market to radiology professionals or an open position that you need to fill quickly? Radiology Today offers many flexible advertising programs designed to maximize your results. From print advertising to E-newsletter sponsorships, Web site advertising to direct mail opportunities, Radiology Today helps achieve your goals.
E-mail our experienced account executives today for more information or call 800-278-4400!
AlliedHealthCareers.com is the premier online resource to recruit radiology professionals. Post your open positions, view resumes and showcase your facility's offerings all at AlliedHealthCareers.com!
To unsubscribe from this mailing list, simply send a message to RT_Newsletter@gvpub.com with "Unsubscribe" in the subject line.
To change your e-mail address, please visit our Web site to unsubscribe your old address and sign up with your new one.