In This Issue...



Worth Repeating...
"The last thing any gynecologist or family practitioner who refers you a UFE patient wants is to get the call after the procedure about some issue the patient is having related to a procedure that they didn't perform. That's the quickest way to kill your referral network and to make sure that doctor will never refer to you again. You have to take care of the patient before and after the procedure."

— John H. Fischer, II, MD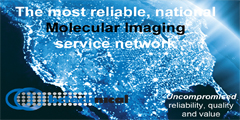 Advertising Opportunities
Have a product or service you want to market to radiology professionals or an open position that you need to fill quickly? Radiology Today offers many flexible advertising programs designed to maximize your results. From print advertising to E-newsletter sponsorships, website advertising to direct mail opportunities, Radiology Today helps achieve your goals.
E-mail our experienced account executives today for more information or call 800-278-4400!
AlliedHealthCareers.com is the premier online resource to recruit radiology professionals. Post your open positions, view resumes and showcase your facility's offerings all at AlliedHealthCareers.com!
Radiology Today's
Physician Recruitment Center (www.RadiologyToday.net/physicians) gives physician recruiters a powerful tool to satisfy their current needs. An ideal option for recruiters looking to fill partnership opportunities, academic appointments and hospital staff positions, the Physician Recruitment Center is visited regularly by radiologists and other imaging physicians during their frequent trips to our website for the best coverage of industry news and trends. 

Call 800-278-4400 or email sales@gvpub.com to post your opportunities and reach the qualified radiologists  who enjoy Radiology Today.
To unsubscribe from this mailing list, simply send a message to RT_Newsletter@gvpub.com with "Unsubscribe" in the subject line.
To change your e-mail address, please visit our website to unsubscribe your old address and sign up with your new one.


Gift Shop
Radiology Today's online gift shop features a wide variety of items for radiology professionals. Choose from t-shirts, journals, clocks, buttons, mouse pads, and much more! Check out our secure online shop today or call toll-free 877-809-1659 for easy and fast ordering.


Editor's E-Note

What is the biggest challenge facing your facility this year? Radiology Today asked imaging directors this question, and we're sharing some answers here, with more to come in next month's print issue. Not surprisingly, reimbursement cuts, maintaining exam volume in a competitive market, and obtaining preauthorization for imaging exams were cited most often by radiology directors as the biggest challenge they're facing in 2010.
— Jim Knaub, editor


E-News Exclusive

Challenges Facing Radiology Directors
By Jim Knaub
The inbox filled up pretty quickly when we asked imaging directors to tell us what challenges they're facing this year. While the usual suspects—reimbursement cuts and competition—were the most common challenges cited, imaging directors told us they're seeing a range of issues in 2010. Radiology Today readers tell us that reduced reimbursement coupled with increased competition and some softening demand because of the economy are making their jobs more difficult.


Currently in Radiology Today…
Building a UFE Practice — IRs Establish Successful Collaboration With Gynecologists
Several interventional radiologists discuss how collaboration with gynecologists has helped improve both their practices and patient care. While interventionalists see that the procedure helps their patients, two clinical studies report that vertebroplasty is no more effective than a sham procedure. What happens when research data and doctors' clinical experiences collide? Read more »
Reducing and Tracking Dose
Cutting radiation exposure per scan is only part of the safety equation. Recording, reporting, tracking dose, and building cumulative exposure information into medical records is the ultimate objective. The work toward that goal is just starting. Read more »
Technology Update: PET
For a nuclear medicine imaging modality as sophisticated at PET and PET/CT, new products and enhancements to existing systems come from customer feedback on everything from functionality to image quality and the need for cost-effective imaging solutions. Read more »
Contrasting Approach
ABVALAR is the first FDA-approved blood-pool MRA contrast agent that offers additional time for imaging and possibly some new applications.
Read more »


Other Imaging News
ACR Updates Appropriateness Criteria
The new version includes updates and five new topics. This article on the ACR's website offers more information.
Researchers Say Lack of Training Leads to Echo Misreads
Misread echocardiograms are frequently linked to a lack of training among cardiologists, wasting money and subjecting patients to unneeded procedures, according research presented at the American Society of Echocardiography meeting.
CIOs Doubtful About Meeting Meaningful Use Deadlines
Some hospital CIOs are skeptical about their organizations' ability to meet new EHR meaningful use criteria, according to this blog entry in the Wall Street Journal.


Great News for Radiology Today Readers!
It's here! Click here to view our Special Digital Supplement, Conducting an Internal Billing Audit.
A valuable read for imaging administrators, radiologists, and anyone involved with the billing and coding processes, our June digital supplement was written by a veteran practice administrator and consultant working with nationally recognized experts. We'll cover important steps to receiving proper payment for an imaging exam, including receiving an exam order, confirming insurance eligibility, scheduling the exam, performing it, coding it correctly, submitting a clean claim, confirming proper payment, and following up on denials.
Visit www.RadiologyToday.net/digitaleditions to read the digital edition of any 2010 issue.
Sponsored by