In This Issue...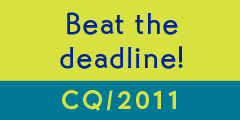 Worth Repeating...
"Walking backwards blindfolded across the interstate unscathed doesn't prove it's a safe activity, but that kind of logic is fairly frequently applied to device safety testing in the MR environment."
— Tobias Gilk, president and MR safety director for MedNovus



Advertising Opportunities
Have a product or service you want to market to radiology professionals or an open position that you need to fill quickly? Radiology Today offers many flexible advertising programs designed to maximize your results. From print advertising to E-newsletter sponsorships, Web site advertising to direct mail opportunities, Radiology Today helps achieve your goals.
E-mail our experienced account executives today for more information or call 800-278-4400!
AlliedHealthCareers.com is the premier online resource to recruit radiology professionals. Post your open positions, view resumes and showcase your facility's offerings all at AlliedHealthCareers.com!
To unsubscribe from this mailing list, simply send a message to RT_Newsletter@gvpub.com with "Unsubscribe" in the subject line.
To change your e-mail address, please visit our Web site to unsubscribe your old address and sign up with your new one.


E-Editor's E-Note

Questions about safety, quality, and appropriateness seem to be all over the news these days. From the president's virtual colonoscopy and screening guideline to MRI safety protocol and radiation exposure, there's new scrutiny about providing the right service the right way. Interestingly, most of the items in this edition have some tie to these issues.
The trouble is that too often these issues take on the emotional and political overtones of, say, a witch hunt. That hinders almost anything constructive from getting done.
— Jim Knaub, editor


E-News Exclusive

Presidential Screening
President Obama had a virtual colonoscopy earlier this month—apparently, against the recommendations of the U.S. Preventive Services Task Force (USPSTF). Rita F. Redberg, MD, editor of the Archives of Internal Medicine, published an online editorial about Obama's virtual colonoscopy:
"According to news reports, Mr. Obama also underwent colon cancer screening, even though this screening is not recommended in his age group. Moreover, even when he reaches age 50 next year, the recommended colon cancer screening tests are either fecal occult blood test or colonoscopy. The USPSTF does not recommend virtual colonoscopy for screening, as performed on Mr. Obama, owing to the lack of supporting evidence. This CT colonography test, like the electron beam CT scan, increased his radiation exposure and subsequent cancer risk."


Currently in Radiology Today…

PET Myocardial Perfusion Imaging
Imaging physicians at some facilities believe this exam provides superior images to a traditional stress test, particularly for women and patients who are overweight. Read more »
Navigating Through the Data — CAD Applications Help Radiologists Cut to the Chase
Radiology Today provides a look at what's new in computer-assisted detection software applications that can help physicians better detect lesions. Read more »
PACS Platform — Quality Assurance in the Digital Age
A technologist wonders who has inherited the role of the QA person in the film lab. Read more »
Managing to Succeed — Helping Leaders Lead
Here are tips on how to govern your board effectively once it's established. Read more »


Other Imaging News...

Excessive Medical Testing in the News Again
Focusing on a recent study questioning the volume of angiograms, ABC News targets the excessive ordering of diagnostic tests.
Reporting Doctors' Mistakes
A resident shares his hospital's efforts at changing the culture of medical mistakes, as reported in The New York Times.
Image Gently Campaign Tackles X-Rays
While they expose children to far less radiation than CT scans, x-rays are more common. Here's an update on a recent meeting on children and digital x-rays from the ACR.


Gift Shop

Radiology Today's online gift shop features a wide variety of items for radiology professionals. Choose from t-shirts, journals, clocks, buttons, mouse pads, and much more! Check out our secure online shop today or call toll-free 877-809-1659 for easy and fast ordering.