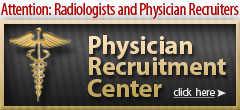 Worth Repeating…
"These are independent researchers, doctors, scientists from across the country, who have been appointed with the task of looking at the hard science and then giving the government and industry recommendations. And they did that on Monday. But we as a population were unwilling to accept, which has become very apparent over the last 48 hours, the message, which is that mammography screening for women between 40 and 49 is not necessarily cost effective."
— Nancy Snyderman, MD, an NBC medical correspondent speaking on the Today show
Advertising Opportunities
Have a product or service you want to market to radiology professionals or an open position that you need to fill quickly? Radiology Today offers many flexible advertising programs designed to maximize your results. From print advertising to E-newsletter sponsorships, Web site advertising to direct mail opportunities, Radiology Today helps achieve your goals.
E-mail our experienced account executives today for more information or call 800-278-4400!
AlliedHealthCareers.com is the premier online resource to recruit radiology professionals. Post your open positions, view resumes and showcase your facility's offerings all at AlliedHealthCareers.com!
To unsubscribe from this mailing list, simply send a message to RT_Newsletter@gvpub.com with "Unsubscribe" in the subject line.
To change your e-mail address, please visit our Web site to unsubscribe your old address and sign up with your new one.
Editor's E-Note
The new year is rolling forward, but January still offers the opportunity to look both forward and back. Our E-News Exclusive looks at RSNA attendance and pieces together some numbers on a question that's always part of the RSNA buzz.
Also, don't miss our new online magazine, Radidology Today Digital Companion. It's our complete magazine available electronically.
— Jim Knaub, editor
E-News Exclusive

The topic always comes up in the McCormick Place exhibit halls.
How's the show been? Has it been busy? Is attendance down?
Everyone wants to know and RSNA puts out an estimate during the show. About one month later, the attendance mystery is solved when the audited attendance numbers surface. It happened again this year. More than 56,800 people were registered for RSNA 2009, including 26,363 professional attendees. Each number represents a 4% drop from 2008.
But what about the bigger picture? Curious, I went searching for the audited total and professional attendance numbers from the past five years. The accompanying chart contains those results.
In the January issue of Radiology Today …
Four Things to Watch in 2010
Radiology Today points out four topics—not including reimbursement, which is constantly scrutinized—that will affect radiology in the coming year(s). Read more.
Decision Support in Radiology
Radiologists are looking for a way to efficiently add supporting information to their reports. It's a big idea but also a big challenge. Read more.
MRI Technology Update
A look at companies' latest and greatest MRI scanner technology. Read more.
Images in the Palm of Your Hand
Are smart phones smart enough to handle genuine image interpretation? You wouldn't want to spend the day reading CT scans on your iPhone, but one researcher found it really could do the job in a pinch. Read more.

Other Radiology News…
PET/CT Finds Cancers Other Screening Tools Miss
Among patients with neurological symptoms suggesting cancer, whole-body PET/CT exams found more cancer when other screening test results were negative, according to this MedPage Today report.
MRI Injury Prompts Aluminum Blanket Recall
The FDA announced a voluntary recall of Thermoflect blanket, MedPage Today Reports
Who's Holding Up Digital Records?
It looks like it may be patients, according to this article from MSNBC.

Gift Shop
Radiology Today's online gift shop features a wide variety of items for radiology professionals. Choose from t-shirts, journals, clocks, buttons, mouse pads, and much more! Check out our secure online shop today or call toll-free 877-809-1659 for easy and fast ordering.