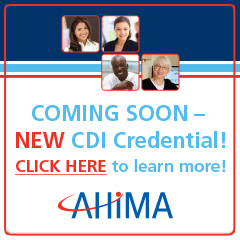 The Christ Hospital Develops Hemodialysis EMR Interface


An Ohio hospital has implemented the first interface that receives real-time data from hemodialysis treatments in its EMR.



Hospitals Partner to Simplify Sharing EMRs


The Pittsburgh Tribune-Review reports that nine western Pennsylvania hospitals have formed a health information exchange system.




Have a coding or transcription question? Get an expert answer by sending an e-mail to

edit@gvpub.com

.




This month's selection:


In auditing our cases to see if the diagnoses obtained by queries were being picked up by our coders, my coworker and I discovered something that worried us. The myocardial infarctions (MIs), mainly non-ST-elevation myocardial infarctions (NSTEMIs), that occurred after admission were not being coded as such. For example: a patient came in to have gallbladder surgery and later his or her cardiac enzymes became elevated. The patient did not present with chest pain on admission and may never have chest pain... Read the full Q&A »



Mobile Phones Help Manage Diabetes


The University of Maryland School of Medicine has found that mobile phone software is effective for the self-management of diabetes. Read more »



Sermo Real-Time Medicine Mobile App


Sermo Mobile app allows doctors to consult with colleagues without leaving a patient's bedside. Read more »



Skyscape's CardioSource App


In just over three months, CardioSource has been downloaded by more than 14,000 cardiologists and other healthcare professionals. Read more »


For The Record is mobile for iPhone, iPad and Android users! Visit www.ForTheRecordmag.com/digital on your phone's browser to view the mobile version of this issue and bookmark us for future issues.



You will need Adobe Flash Player to view your digital issue. Go here for a free download.




If the meaningful use movement has done anything, it's created a renewed emphasis on the importance of clinical documentation. Sloppy, imprecise notes just won't cut it in today's environment.

The topic is so huge that books have been written about how to improve clinical documentation. This month's E-News Exclusive narrows the process down just a bit, offering pointers on how best to spot and address problem areas.

— Lee DeOrio, editor




Improving Clinical Documentation


By Peggy Stilley, CPC, CPMA

The written word can be very powerful—and medical documentation is no exception. Medical records provide valuable information to assist patient care by detailing current illnesses, previous conditions, treatment options, medications, tests, and services performed, among other items. Medical record documentation is a matter of compliance and good patient care. It helps determine CPT codes to support reimbursement and identifies medical necessity for services being performed.

The first step to improving clinical documentation is identifying a potential deficiency and being willing to take corrective measures. This can be accomplished by auditing medical records, either internally or by an outside entity. Providers can conduct prepayment audits (before a claim is filed) or retrospective audits (after a claim is filed and reimbursed) or focus on a specific procedure or code. Audits can be performed using payer-specific criteria or by selecting codes/procedures from a utilization report.

Full Story »




In the Crosshairs


Depending on the region, recovery audit contractors have taken a shine to certain issues where hospitals are falling short of compliance. Read more »



The Aurion Project Looks Ahead


An expansion of the federal "Connect" program, this initiative strives to promote health information exchange through the use of open source technology.
Read more »



Successful Attestation: It's All in the Details


Smart healthcare organizations are learning from the experiences of others to get a better handle on how to best satisfy meaningful use requirements. Read more »



No Boundaries


The VA's telehealth program uses its vast resources to go beyond the reach of most and extend care to veterans worldwide. Read more »




CSC Finalizes iSOFT Acquisition



CSC recently announced it has closed the acquisition of iSOFT Group Limited, a provider of advanced HIT solutions. The acquisition complements and strengthens CSC's software products and healthcare integration and services portfolio and enhances its healthcare research and development capabilities.

Adding iSOFT's 3,000 global employees, including those from major research and development centers in India, Spain, the United Kingdom, Australia, New Zealand, and Central Europe, expands CSC's capability to support existing customers and develop more innovative solutions and adds a robust set of clients in new and emerging markets. Read more »




For The Record offers many flexible advertising programs designed to maximize your results. From print advertising to e-newsletter sponsorships, website advertising to custom e-mail marketing, For The Record helps maximize your investment. E-mail our experienced account executives today for more information or call 800-278-4400!

AlliedHealthCareers.com is the premier online resource to recruit HIM professionals. Post your open positions, view resumes and showcase your facility's offerings all at AlliedHealthCareers.com!




For The Record's online gift shop features a wide variety of items for HIM professionals for any occasion. Whether you are searching for products to give friends or colleagues, hand out to clients, or wear yourself, finding the right gifts is easy and affordable at For The Record's online gift shop. Choose from t-shirts, journals, clocks, buttons, mouse pads, and much more! Check out our secure online shop today or call toll-free 877-809-1659 for easy and fast ordering.