In This Issue...



Other News
Six Health Agency Workers Costing State $700,000
The West Virginia Health Information Exchange continues to rack up the expenses, according to the Charleston Gazette.

EHR Adoption in Florida
The Orlando Sentinel/Modesto Bee profiles how meaningful use criteria are affecting area practices.


Advertising Opportunities
For The Record offers many flexible advertising programs designed to maximize your results. From print advertising to E-newsletter sponsorships, website advertising to custom email marketing, For The Record helps maximize your investment. E-mail our experienced account executives today for more information or call 800-278-4400!
AlliedHealthCareers.com is the premier online resource to recruit HIM professionals. Post your open positions, view resumes and showcase your facility's offerings all at AlliedHealthCareers.com!
To unsubscribe from this mailing list, simply send a message to FTR_Newsletter@gvpub.com with "Unsubscribe" in the subject line.
To change your e-mail address, please visit our website to unsubscribe your old address and sign up with your new one.


Gift Shop
For The Record's online gift shop features a wide variety of items for HIM professionals for any occasion. Whether you are searching for products to give friends or colleagues, hand out to clients, or wear yourself, finding the right gifts is easy and affordable at For The Record's online gift shop. Choose from t-shirts, journals, clocks, buttons, mouse pads, and much more! Check out our secure online shop today or call toll-free 877-809-1659 for easy and fast ordering.


Editor's E-Note

These days, if healthcare honchos aren't discussing meaningful use, there's a good chance the topic is privacy.
In this month's E-News Exclusive, an industry expert suggests an aggressive approach to protecting healthcare data is the optimal strategy to limit the chances of a breach.
On another note, please drop by the For The Record booth (#1328) at the upcoming AHIMA conference in Orlando to let us know how we're doing or just to say hi.
— Lee DeOrio, editor


E-News Exclusive

HIPAA and HITECH Compliance:
A Proactive Opportunity to Address Risk
By Brian Cleary

Hospitals and physicians are adopting EHRs and other IT faster than ever. Many are in a race to prove meaningful use to qualify for cash incentives under the HITECH Act in 2011.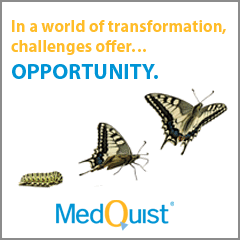 For others, it's the fear of a looming data breach, financial penalties, and negative publicity that's driving them to trade in manual processes for safe and more secure ways of storing and accessing patient data.
Just this summer, five California hospitals were slapped with hefty fines totaling $675,000 for failing to prevent unauthorized access to patient medical records. Although the fines were imposed under two 2008 California laws, they're a sobering reminder of similar costly penalties for violations under the HITECH Act.

Regardless of what's lighting the fire, the good news is that organizations are viewing the HITECH Act as an opportunity to proactively improve existing frameworks and implement new processes to better protect sensitive patient data.


Recently in For The Record…

RACs: There's Beauty in the Beast
Coding experts explain how it's possible for healthcare organizations to embrace the recovery audit contractor process. Read more »
Text Appeal
Industry experts weigh in on a new transcription solution that allows the secure exchange of digital records and medical images via text message. Read more »
Faulty Construction
Because EHRs lack a human-centric design, the technology often fails to win over physicians who decry its inability to fit into their workflow. Read more »
Selling Physicians on the Value of Speech Recognition
No matter how advanced the technology, it will prove ineffective if hospital staff aren't willing to give it a try. Read more »
And So It Is Written…
Find out what industry leaders think of the final meaningful use guidelines. Read more »


Ask the Expert
Have a coding or transcription question? Get an expert answer by sending an e-mail to edit@gvpub.com.
This month's selection
I have a coding question regarding chronic pain. A patient has an admitting diagnosis of chronic pelvic pain and has a diagnostic laparoscopy done as an outpatient. The postoperative diagnosis is 1. chronic pelvic pain, 2. endometriosis.
I have read the coding guidelines, Chapter 6: Diseases of Nervous System and Sense Organs (320-389). A. Pain-Category 338 and I am still not positively sure what is the correct code to select for chronic pelvic pain.
Libby McCollough, RHIT
Medical Records Coding
Claiborne County Hospital and Nursing Home
Response
Category 338 is reserved for pain not elsewhere classifiable, meaning that if there is no other ICD-9-CM code that applies, using a code from this section is OK; otherwise the coder is directed to find a better, more applicable code.
Code 625.8 is the code for other specified symptoms associated with female genital organs. I would review the documentation to reveal a possible link between the pain and endometriosis.
Typically, physicians do not diagnose the same way we code; therefore, making the connection between symptoms and associated conditions is important. Pelvic pain is often associated with endometriosis. This is similar to a physician documenting chest pain due to myocardial infarction. If the physician performs the laparoscopy due to pelvic pain and determines that the diagnosis is endometriosis, then the first listed diagnosis should be endometriosis.
Official Coding Guidelines, Section IV (Diagnostic Coding and Reporting Guidelines for Outpatient Services) Section E states that "codes that describe symptoms and signs, as opposed to diagnoses, are acceptable for reporting purposes when a diagnosis has NOT been established (confirmed) by the provider." That is the key to this case.
— Gail Smith, MA, RHIA, CCS-P, is director of the HIM program at the University of Cincinnati.


Industry Insight

Northrop Grumman Appoints Sam Shekar as Chief Medical Officer
Northrop Grumman Corporation has named Sam Shekar, MD, MPH, as chief medical officer in the company's information systems sector.
Shekar will provide strategic direction for Northrop HIT business and will serve as an adviser to the healthcare and public health community, customers, partners, and government agencies and healthcare organizations on technology and health policy issues in the medical, clinical, and public health fields.