In This Issue...


Other News
X-Ray Tech Accused of Voyeurism, Found Storing Medical Records
According to the Norwalk Reflector, various hospital records were being stored by a former ultrasound technician accused of voyeurism and child pornography at an Ohio facility.
HIE Enhances Decision Making
An InformationWeek article reports on how the Wisconsin Health Information Exchange helped improve clinical decision making by providing emergency department physicians with electronic data.


Ask the Expert
Have a coding or transcription question? Get an expert answer by sending an e-mail to edit@gvpub.com.
This month's selection:
How do you code a broviac catheter when it's flushed with 200 mg of clindamycin and 5,000 units of heparin that are mixed into one syringe; the dose is then split and administered into both lines of the broviac catheter via IV push. Should this be coded as 96374, IV push administration, initial for both lines with modifier -59 appended to one of the codes?
Toni Belsito, CCS
Saint Barnabas Health Care System
Response:
If two lines join into one venous access site and you split the IV push but administer at the same time to the same site (even if it's a left and a right half), you can only code it as one push.
In order to use the -59, there would have to be two specific sites of delivery (like L ARM and R ARM), not a single broviac catheter with two external lines joining into it. So from the description, that isn't an option. And unless they are sequential, instead of concurrent, you cannot use 96374 and 96376.
One delivery, one site, via push equals one instance of code 96374. No additional code with modifier -59, no "each sequential push" code.
— Judy Sturgeon, CCS, is the clinical coding/reimbursement compliance manager at Harris County Hospital District in Houston and a contributing editor at For The Record. While her initial education was in medical technology, she has been in hospital coding and compliance for 21 years.


Gift Shop
For The Record's online gift shop features a wide variety of items for HIM professionals for any occasion. Whether you are searching for products to give friends or colleagues, hand out to clients, or wear yourself, finding the right gifts is easy and affordable at For The Record's online gift shop. Choose from t-shirts, journals, clocks, buttons, mouse pads, and much more! Check out our secure online shop today or call toll-free 877-809-1659 for easy and fast ordering.


Editor's E-Note

As healthcare leaders attempt to efficiently manage the flow of information throughout the continuum of care, self-service options for patients are gaining more notice.
In July's E-News Exclusive, learn how this technology adds greater convenience and flexibility.
— Lee DeOrio, editor


E-News Exclusive
Self-Service: The Role Patients Can Play in Optimizing EHR Adoption and Its Impact
By Tim Heffernan
As the American Recovery and Reinvestment Act (ARRA) spurs greater adoption of EHRs nationwide, the industry's primary focus has been the technology's impact on clinicians and what constitutes meaningful use. While this is a logical place to begin, the transition to EHRs presents an equally significant opportunity to redefine the healthcare experience for patients. In fact, building a national HIT structure that includes self-service technology will complement EHR use, expedite its benefits, and empower patients to be more active participants in their care.


Recently in For The Record…
The Realities Surrounding a National MPI
A number of factors make it unlikely that a suitable system will be devised to tag each patient with a unique identifier recognizable in all healthcare settings. Read more »
The Mechanics of Inpatient Chart Review
Under intense pressure to code accurately and quickly, coders need a little bit of detective in them to successfully navigate the history of a patient's hospital stay.
Read more »
A Dash of Compliance
PEPPER reports have returned with a new look, one that industry experts say can help providers spot payment errors. Read more »
EDMS: Solidifying the Union Between Paper and the EMR
Many hospitals are starting to realize the need for a true electronic document management system in addition to a robust EMR. Read more »
Negative Exposure
Cell phone cameras add another variable to patient privacy concerns that must be addressed by healthcare organizations. Read more »


Industry Insight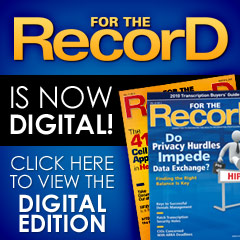 HIMSS EHR Association Elects New Leadership
The HIMSS EHR Association recently announced the election of its new chair and vice chair, along with executive committee election results based on voting by the full membership during May and June. The association is comprised of 44 companies that supply the majority of EHRs used in hospitals and physicians practices in the United States.
Carl Dvorak, executive vice president of Epic Systems, has been elected to the position of chairman, and Charles Jarvis, vice president of healthcare services and government relations for NextGen Healthcare Information Systems, has been elected to the vice chair position. Dvorak was a founding member of the association, now in its fifth year. He also served on the executive committee from 2004 to 2006 and was reelected in 2009. Jarvis was first elected to the executive committee in 2007 and has also served as chair of the communications workgroup, the government initiatives workgroup, and the ambulatory special interest group.


Advertising Opportunities
Have a product or service you want to market to HIM professionals, or an open position that you need to fill quickly? For The Record offers many flexible advertising programs designed to maximize your results. From print advertising to E-newsletter sponsorships, website advertising to direct mail opportunities, For The Record helps achieve your goals. E-mail our experienced account executives today for more information or call 800-278-4400!

AlliedHealthCareers.com is the premier online resource to recruit HIM professionals. Post your open positions, view resumes and showcase your facility's offerings all at AlliedHealthCareers.com!

To unsubscribe from this mailing list, simply send a message to FTR_Newsletter@gvpub.com with "Unsubscribe" in the subject line.

To change your e-mail address, please visit our website to unsubscribe your old address and sign up with your new one.