In This Issue...



Ask the Expert
Have a coding or transcription question? Get an expert answer by sending an e-mail to edit@gvpub.com.
This month's selection:
I am wondering if a person should code high risk V7611 when a father, brother has/had breast cancer?
Betty Lathrop
Columbia, Mo.
Response:
To verify my response, I did a quick Google search and found that the altered BRCA1 and BRCA2 genes can come from mother or father. Therefore, the code is applicable.
— Gail Smith, MA, RHIA, CCS-P, is director of the HIM program at the University of Cincinnati.



Other News
Countersuit Filed in NH Privacy Breach Case
A New Hampshire nurse says she's been falsely accused of tampering with patient records, according to Fosters.com.
Major-League Hurler Puts iPhone to Good Use
An Inside Pulse Sports article reports that San Diego Padres pitcher Tim Stauffer recently used his iPhone to self-diagnose his abdominal discomfort as appendicitis.


Gift Shop
For The Record's online gift shop features a wide variety of items for HIM professionals for any occasion. Whether you are searching for products to give friends or colleagues, hand out to clients, or wear yourself, finding the right gifts is easy and affordable at For The Record's online gift shop. Choose from t-shirts, journals, clocks, buttons, mouse pads, and much more! Check out our secure online shop today or call toll-free 877-809-1659 for easy and fast ordering.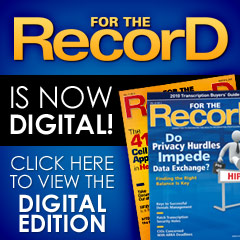 Editor's E-Note

Do you have a morning routine? Take the dog out, make coffee, stop at the bagel joint. If it's not working, perhaps you should investigate the merits of a Lean Six Sigma approach, a results-oriented theory that gets rid of unnecessary actions. (Hint: Check with Sparky before you eliminate dog walking.)
In this month's E-news Exclusive, learn how this strategy can help boost hospital efficiencies and ease the transition to new technologies.
— Lee DeOrio, editor


E-News Exclusive

Healthcare Organizations Work Smarter With Process Improvement
By John B. Jones
Healthcare organizations across the country are preparing for or are in the middle of major process changes enabling the switch to digital and implementation EHRs. Adding to the pressure of transition, a recent study by Thomson Reuters found that healthcare organizations waste between $600 billion and $850 billion per year, 17% of which can be attributed to administrative inefficiency.
The healthcare industry cannot sustain this unnecessary spending, especially considering the steep learning curve and evolving efficiency requirements from Washington that are associated with EHR adoption. Automating information must happen now, as the industry can no longer effectively maintain a records system that is primarily paper based. But many providers fear that implementing an EHR system will make things worse before they get better.
All technological innovation is met with initial hesitancy—consider, for example, the introduction of ATMs or online banking. The potential benefits are easy to see, but it can be difficult to make the jump. Healthcare organizations recognizing the challenges of EHR adoption are easing the transition by seeking support in the form of process improvement methodology. Proactively managing the change process can deliver reduced operational costs and streamlined processes for improved productivity— making it easier to get over the hurdle.


Recently in For The Record…

Mission Critical: Telemedicine in the ICU
Futuristic technology is transforming a children's hospital's pediatric ICU, but a recent study questions whether such projects are worth the expense. Read more »
Dialed in to Data Exchange
A platform launched by Verizon provides a way for medical transcriptionists to share digitized patient notes detailing care and treatment with doctors, hospitals, and other healthcare providers, but it's not without its detractors. Read more »
Adult Education Principles in Clinical Informatics
Make the effort to learn how to best teach staff, and chances are your EMR implementation will go that much smoother. Read more »
Unreasonable Request?
HIM experts have raised serious concerns about meaningful use criteria that require hospitals to provide most patients with electronic versions of their records within 48 hours. Read more »
Document for Success
By implementing a clinical documentation improvement program, healthcare organizations can support better patient care and increase their bottom line. Read more »


Industry Insight

Care Communications Appoints Kathy Johnson to New VP Role
Care Communications, Inc, a national HIM consulting and staffing firm, has announced the appointment of Kathy Johnson, RHIA, as vice president of coding quality and compliance services.
Johnson provides strategic guidance for Care Communications and several coding-related national committees as they help hospitals and health networks adapt to the future state of coding and the efficiency- and compliance-related needs of their organizations. She and her team will continue to help hospitals and health networks improve the bottom line and maintain compliance when handling regulations from the Centers for Medicare & Medicaid Services, including recovery audit contractors, Medicare administrative contractors, and hospital-acquired conditions, as well as preparing for the transition to ICD-10 and juggling the many other regulatory changes that lie ahead.
Along with Johnson's promotion to vice president, Care Communications' coding services department will be renamed coding quality and compliance to reflect the growth and demand of coding compliance services for hospitals and physician practices.


Advertising Opportunities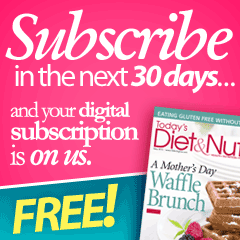 Have a product or service you want to market to HIM professionals, or an open position that you need to fill quickly? For The Record offers many flexible advertising programs designed to maximize your results. From print advertising to E-newsletter sponsorships, Web site advertising to direct mail opportunities, For The Record helps achieve your goals. E-mail our experienced account executives today for more information or call 800-278-4400!

AlliedHealthCareers.com is the premier online resource to recruit HIM professionals. Post your open positions, view resumes and showcase your facility's offerings all at AlliedHealthCareers.com!

To unsubscribe from this mailing list, simply send a message to FTR_Newsletter@gvpub.com with "Unsubscribe" in the subject line.

To change your e-mail address, please visit our Web site to unsubscribe your old address and sign up with your new one.