In This Issue...


Other News
Healthcare CIOs Get New Certification
The College of Healthcare Information Management Executives has launched a new certification program designed specifically for healthcare CIOs, according to InformationWeek.
IT in Rush to Meet Incentive Deadlines
Time constraints are an issue when it comes to reaching EHR deadlines, according to Computerworld.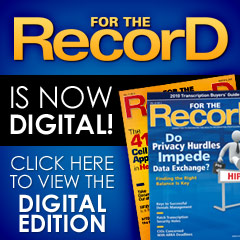 Ask the Expert
Have a coding or transcription question? Get an expert answer by sending an e-mail to edit@gvpub.com.
Question:
A 50-year-old seen in follow-up for renal insufficiency had a renal biopsy that showed focal and segmental glomerular sclerosis. The patient was placed on Vasotec and then developed hyperkalemia, so the Vasotec was stopped. Diagnostic impression after lab work and physical: Focal and segmental glomerulosclerosis. ICD-9-CM code 582.1 was used. Is a V67.9 code needed for the follow-up?
Lela Delaney
Oxford, Miss.
Response:
According to the Official Coding Guidelines, "Follow-up codes are used to explain continuing surveillance following COMPLETED treatment of a disease, condition, or injury. They imply that the condition has been fully treated and NO LONGER EXISTS." The guidelines further state that "should a condition be found to have recurred on the follow-up visit, then the diagnosis code should be used IN PLACE of the follow-up code."
The conclusion is that there is no need to assign V code.
(For reference, page 50 of ICD-9-CM Official Guidelines for Coding and Reporting is available at http://www.cdc.gov/nchs/data/icd9/
icdguide.pdf.)
— Gail I. Smith, MA, RHIA, CCS-P, is director of the HIM program at the University of Cincinnati.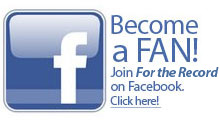 Gift Shop
For The Record's online gift shop features a wide variety of items for HIM professionals for any occasion. Whether you are searching for products to give friends or colleagues, hand out to clients, or wear yourself, finding the right gifts is easy and affordable at For The Record's online gift shop. Choose from t-shirts, journals, clocks, buttons, mouse pads, and much more! Check out our secure online shop today or call toll-free 877-809-1659 for easy and fast ordering.


Editor's E-Note

It's seemingly impossible to get through a conversation about healthcare today without mentioning meaningful use. Everyone's favorite term is a lightning rod for debate.
Not to be left out in the cold, the HIM profession, not surprisingly, has a huge but understated role in helping healthcare organizations reach their stimulus targets. In this month's E-News Exclusive, find out exactly what that role is.
After finishing this edition of the e-newsletter, check out For The Record on Facebook and become a fan of the magazine.
— Lee DeOrio, editor


E-News Exclusive

HIM and Meaningful Use
By David Yeager
Now that the notice of proposed rulemaking for meaningful EHR use has passed the comment period, it won't be long before healthcare organizations know which benchmarks they'll need to reach to qualify for meaningful use payments. As they work to meet those benchmarks, input from all departments will be crucial. And although it is sometimes overlooked, one area that will be particularly important is HIM.
"HIM professionals are uniquely qualified to either drive the change or support the workflow changes that will be necessary for the implementation of HIT in terms of the data flow, ensuring data integrity when it comes to interoperability of EHR modules or EHR systems, even leading the implementation efforts," says Allison Viola, MBA, RHIA, director of federal relations for the AHIMA. "And I think oftentimes there's so much focus on the IT perspective that there's not much attention given to the need for HIM professionals when it comes to the actual data that's housed in these EHRs."


Recently in For The Record…

Tap Into the Power of PHRs
This underutilized tool generates and stores information that can make the healthcare experience more valuable for both patients and providers. Read more »
No Better Time for Telehealth
A pair of studies illustrates the power of at-home patient monitoring in terms of both care and cost savings. Read more »
IT Vendor Negotiations in the ARRA Era
The negotiating field has been revamped as healthcare executives and technology companies operate in a world where meaningful use takes precedence. Read more »
Beat the Odds
A number of factors make successful implementation of an emergency department information system a challenge to many healthcare organizations. Read more »


Industry Insight

Quality Systems Acquires Opus Healthcare Solutions
Quality Systems, Inc (QSI), a provider of healthcare information systems and connectivity solutions, has entered into an agreement to acquire Opus Healthcare Solutions, Inc. The acquisition complements and will be integrated with the assets of Sphere Health Systems, Inc, which were acquired in August 2009. Both companies are established developers of software and services for the inpatient market and will become part of NextGen Healthcare Information Systems, Inc, QSI's wholly owned subsidiary.
NextGen Healthcare will focus on providing solutions to hospitals with 100 beds or fewer, a marketplace that has been historically underserved and is in need of state-of-the-art systems.


Advertising Opportunities

Have a product or service you want to market to HIM professionals, or an open position that you need to fill quickly? For The Record offers many flexible advertising programs designed to maximize your results. From print advertising to E-newsletter sponsorships, Web site advertising to direct mail opportunities, For The Record helps achieve your goals. E-mail our experienced account executives today for more information or call 800-278-4400!

AlliedHealthCareers.com is the premier online resource to recruit HIM professionals. Post your open positions, view resumes and showcase your facility's offerings all at AlliedHealthCareers.com!

To unsubscribe from this mailing list, simply send a message to FTR_Newsletter@gvpub.com with "Unsubscribe" in the subject line.

To change your e-mail address, please visit our Web site to unsubscribe your old address and sign up with your new one.