In This Issue...


Other News
Sensitive Questions Arise About Access to Online Medical Data
Is it possible that PHRs could contain too much information, asks the Huffington Post.
HITRC to Work With Regional Extension Centers to Promote HIT
Health and Human Services is set to award a grant to establish a national Health Information Technology Research Center, according to Federal Computer Week.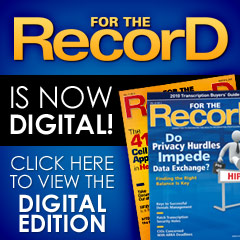 Ask the Expert
Have a coding or transcription question? Get an expert answer by sending an e-mail to edit@gvpub.com.
Question:
I code for a large cardiology practice and encounter stent restenosis diagnosis. I have read in different places that the correct code is 996.72, Complication due to cardiac device. Can you give me information on this and does the physician have to state it was a complication due to the stent and not just progression of the disease? I have never seen a physician document a complication of in-stent restenosis.
Theresa Dix, CCS-P, CCP, CPMA
Certified Medical Coder/Auditor
East Tennessee Heart Consultants
Response:
Stents are generally placed in coronary arteries to address areas of stenosis (ie, blockages inside the coronary arterial pathway). These blockages slowly build up over time as sticky, low-density cholesterol molecules hit the arterial wall and accumulate. When a stent is placed at an area of stenosis, it compresses the built-up cholesterol deposits and creates a wider pathway for blood to flow through. A stent is a solid/metal object that acts as scaffolding that keeps the targeted segment of artery open for an extended period of time.


Gift Shop
For The Record's online gift shop features a wide variety of items for HIM professionals for any occasion. Whether you are searching for products to give friends or colleagues, hand out to clients, or wear yourself, finding the right gifts is easy and affordable at For The Record's online gift shop. Choose from t-shirts, journals, clocks, buttons, mouse pads, and much more! Check out our secure online shop today or call toll-free 877-809-1659 for easy and fast ordering.


Editor's E-Note

This month's E-News Exclusive serves as another example of how coders need to be well versed in more than just recording numbers. Understanding the art of diagnosis can go a long way toward coders earning the proper reimbursement for their healthcare organizations. As is pointed out in the article, it is hoped ICD-10 will ease this burden.
— Lee DeOrio, editor


E-News Exclusive

Renal Failure or Renal Insufficiency?
By Barbara A. Rubin, MEd, RHIA
Because of how they're classified by ICD-9, renal insufficiency and chronic renal failure carry vague and confusing applications; for the novice coder, it may well be easier to solve the question of which came first, the chicken or the egg. Robert Gold, MD, has pointed out (www.dcbainc.com/library/acute_renal_failure_07p.html) that even the Coding Clinic Guidelines have only sparse and vague information on the clarity of the two conditions. "There had not been much in the way of guidance in the medical world and Coding Clinicjust references to elevation of creatinine or decrease in renal function. And how do we differentiate failure from insufficiency?" he wrote.
The Foundation for IgA Nephropathy indicates that renal failure is also referred to as renal insufficiency; they are not two distinct conditions but synonymous in meaning and diagnosis. Renal insufficiency occurs when the kidneys no longer have enough healthy tissue to function properly, with the key section being "no longer have enough healthy tissue." This infers the kidney must have been in a diseased condition for a period of time. Therefore, one can extrapolate the fact that insufficiency would apply more to a chronic condition than an acute phase.


Recently in For The Record…

Do Privacy Hurdles Impede Data Exchange?
Some industry experts argue that too-strict privacy laws are hampering the electronic exchange of health information. Read more »
Precarious Position
Learn how medical transcription businesses can successfully tackle security risk analysis to bolster their defenses against impending HITECH regulations. Read more »
The Rush Is On
New grants are in place to help the HIM industry fund the arrival of 50,000 new workforce members. Read more »
Healthcare 2010: What's in Store?
Top thinkers in the HIT profession field questions that provide an inside look at this year's prospects. Read more »


Industry Insight

Physician Satisfaction With EMRs Declines
Press Ganey Associates' "2009 Hospital Pulse Report: Physician Perspectives on American Hospitals" found physicians' satisfaction with EMRs is decreasing. Many physicians actually consider this increasingly common technology to be time consuming and fear it may compromise patient safety. The report also finds that, for the third year in a row, physicians' No. 1 issue is a gap in the physician-administration relationship. Physicians continue to report a need for better communication between administrators and medical staff.
"Many, if not most, hospitals are just now implementing EMRs that the physicians have to use for order entry or to access information," says Christina Dempsey, RN, MBA, CNOR, senior vice president for PatientFlow at Press Ganey Associates. "The lower satisfaction may indeed simply be the learning curve associated with this new tool and may improve as physicians become more accustomed to the technology and the technology is updated and adapted to meet physicians' concerns."


Advertising Opportunities
Have a product or service you want to market to HIM professionals, or an open position that you need to fill quickly? For The Record offers many flexible advertising programs designed to maximize your results. From print advertising to E-newsletter sponsorships, Web site advertising to direct mail opportunities, For The Record helps achieve your goals. E-mail our experienced account executives today for more information or call 800-278-4400!

AlliedHealthCareers.com is the premier online resource to recruit HIM professionals. Post your open positions, view resumes and showcase your facility's offerings all at AlliedHealthCareers.com!

To unsubscribe from this mailing list, simply send a message to FTR_Newsletter@gvpub.com with "Unsubscribe" in the subject line.

To change your e-mail address, please visit our Web site to unsubscribe your old address and sign up with your new one.