E-Vote
What is the single greatest cause of concern related to aging among your patients/clients?
A. Declining health
B. Financial issues
C. Dependence on others
D. Mental incapacity
Advertising Opportunities:
Have a product or service you want to market to an expanded group of professionals who work directly with the aging population, or an open position that you need to fill quickly? Aging Well offers many flexible advertising programs designed to maximize your results. From print advertising to E-newsletter sponsorships, Web site advertising to direct mail opportunities, Aging Well helps achieve your goals.

E-mail our experienced account executives today at sales@gvpub.com for more information or call 800-278-4400!

AlliedHealthcareers.com is the premier online resource to recruit professionals that specialize in working with older adults. Post your open positions, view resumes and showcase your facility's offerings all at AlliedHealthcareers.com!

To unsubscribe from this mailing list, simply send a message to AW_Newsletter@gvpub.com with "Unsubscribe" in the subject line.

To change your e-mail address, please visit our Web site to unsubscribe your old address and sign up with your new one.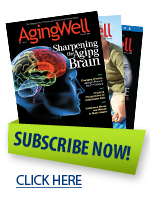 Editor's E-Note
A sense of purpose, networking, and communication are key for keeping older adults vital and engaged. This month's E-News Exclusive highlights the value of these factors as shown in the recently completed IOA [Information on Artists] III: Special Focus NYC Aging Artists that suggests aging artists may serve as role models for positive aging. Their adaptability, eagerness to utilize their talents, social networks, and continuing communication support a lifestyle that thrives on staying involved, keeping busy, and enjoying life.
We know that important components of elders' quality of life include remaining independent and living in their own homes. June's designation as Home Safety Month makes it an ideal time to examine the areas of older adults' homes most likely to become problematic as they carry out daily routines. It's important to take steps to ensure safety in areas such as the kitchen and bathroom, where inherent dangers threaten serious injury to elders through burns or falls.
Professionals can offer recommendations on simple home modifications that can make older adults' maneuverings easier and less likely to result in injury. The installation of railings beside exterior steps, grab bars in bathrooms, and the removal of throw rugs enhance elders' ability to safely negotiate throughout their own homes. Look for Aging Well's Summer Product Showcase in the July/August issue as a guide. Benjamin Franklin was right about that ounce of prevention…
Subscribe free online at www.AgingWellmag.com.
We welcome your comments at AWeditor@gvpub.com.
— Barbara Worthington, editor
E-News Exclusive
Retirement Redefined: Lessons From Aging Artists
By Juliann Schaeffer
Retirement was once viewed as a stationary event characteristically defined with words such as "withdrawal," "seclusion," and "isolation." The act of retiring is now viewed by many as a fluid process, allowing for fresh career choices or ventures, as well as the reemergence of long-lost hobbies. Yet after attaining the long-awaited age of retirement, many elders find themselves floundering in their newfound freedom amid too much time and too few ties to community, loved ones, and the like. But according to Joan Jeffri, director of the Research Center for Arts and Culture at Teachers College, Columbia University, an aging artist's life could hold many answers for elders confounded and cut off from community in their third age.
Coming Soon in Aging Well...
Optimism on Osteoporosis: Research and Treatment
The prevalence of osteoporosis among older adults warrants added vigilance in diagnosis and treatment.
Technology at Home: Innovations for Aging in Place
Futuristic innovations foster the independence that enables older adults to remain longer in their homes.
Forgotten Partners: Overlooked at the End
When professionals focus efforts on elders suffering from dementia, they frequently overlook patients' partners and their stress, pain, uncertainty, and other formidable challenges.
Learning for a Lifetime
Educational offerings both in and outside the classroom provide older adults opportunities to acquire knowledge, socialize, and expand their horizons.
Ask the Expert
Have a question you want answered by one of our experts? Send your question to
AWeditor@gvpub.com
and it may be featured in an upcoming E-Newsletter or print issue.
Question:

Is there a fairly priced and easy-to-use computer program that older adults can purchase to stimulate cognitive abilities?
Carol Siberski, MS
Nanticoke, PA
Response:
There are scores of new computer-based products on the market that promise to improve mental fitness in older adults. The costs of these products range from $20 to nearly $400. There is good evidence that when elders use the software programs, their performance on the programs improves. The problem is that there is very little evidence that improvements with the games help older adults function better in daily life.
If older adults enjoy computer games, playing the games certainly won't hurt. Before you buy, understand that there is no evidence that playing these games slows the course of age-related declines elders typically experience, nor is there any evidence that the programs stave off diseases like dementia.
— Laura Carstensen, PhD, is the Fairleigh S. Dickinson, Jr. Professor in Public Policy, a professor of psychology, and director of the Stanford Center on Longevity at Stanford University.
Other Aging News...
A Community of Older Adults
A thriving European trend in older adult housing appeals to elders in the United States for its economical features and notable quality of life, according to USA Today.
Working Out the Brain
Stretching the brain in a variety of areas contributes to keeping the aging mind working effectively, according to NPR online news.
Grim News for Social Security, Medicare
The current recession has resulted in the increasing financial instability of both Medicare and Social Security, according to an article in The Arizona Republic.
Saying Good-Bye
Personality is unlikely to change despite an individual's imminent death, according to an article posted on CNN.com.