In This Issue...


Recently in Aging Well...
Tough Decisions About Medications
What do you do when a blood pressure medication also increases fall risk? Read more »
Monitoring Care Transitions — Make Sure the Next Caregiver Knows the Patient's Needs
While dealing with family caregivers isn't always easy, healthcare providers clearly need to work in partnership with them to ensure the best outcomes for their patients. Read more »
Shingles: Painful and Debilitating
With no cure available, vaccination against shingles presents the best option to combat this debilitating disease. Read more »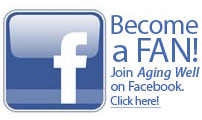 Other Aging News...
Stroke Procedures on Equal Footing
Results of the CREST trials involving patients with hardening of neck arteries that can lead to stroke show balloon angioplasty and stenting are virtually equivalent in effectiveness and safety to the surgical removal of plaque, according to an article in the Los Angeles Times.
Technology Improves Medication Adherence
Technology plays an important role in attempts to improve older adults' adherence to medication routines, an article in The Wall Street Journal reveals.
Osteoporosis Drugs Linked to Hip Breaks
Although bisphosphonates are widely prescribed to inhibit bone loss in post-menopausal women with osteoporosis, recent studies suggest detrimental effects may result from the extended use of such drugs.
Attitude Affects Aging
Can possessing a negative attitude toward aging become a self-fulfilling prophecy? Studies indicate it's a possibility, according to an article in The Boston Globe.


Editor's E-Note
After a formidable, punishing winter, the welcome spring season has finally arrived. With it come warmer temperatures and more favorable conditions for older adults to venture outdoors.
As we observe National Cancer Control Month in April, it's the ideal time to encourage older adult patients and clients to become proactive in combating all types of cancer. Urge your patients to schedule appointments for mammograms, colonoscopies, and other diagnostic tests that can reduce the risks for developing cancer in the future. The best defense is a good offense.
You can be instrumental in reminding elders of the importance of staying a few steps ahead of cancer and its deadly consequences. Encourage them to act now and commit to preventing the occurrence of cancer in order to add many healthful years to their life spans.
We welcome your comments at AWeditor@gvpub.com. And visit Aging Well's Web site at www.AgingWellmag.com for news, articles, and information important to professionals in the field of aging, as well as to subscribe to our print or digital issues.
— Barbara Worthington, editor


E-News Exclusive
Alzheimer's Continues to Rise, Hits Minorities Hardest
 
More than 5 million Americans are living with Alzheimer's disease, and blacks and Hispanics are at the highest risk of developing the disease, a new report finds. It also indicates that black Americans are about two times more likely to develop Alzheimer's disease than whites, and Hispanics face about 1.5 times the risk.
"Alzheimer's is continuing to be on the rise," says Maria Carrillo, PhD, the Alzheimer's Association's senior director of medical and scientific relations. "So many people are affected by it across the country, but we are rallying to highlight the disparities that exist in populations."
Much of Alzheimer's escalation is attributed to increasing high blood pressure and diabetes among older adults, which raise the odds of developing Alzheimer's disease in all populations. "African Americans and Hispanics are particularly vulnerable, because the proportion of these two risk factors is higher even still," Carrillo says. "We can actually do something about this increased risk with better management of the conditions."


Ask the Expert
Have a question you want answered by one of our experts? Send your question to
AWeditor@gvpub.com
and it may be featured in an upcoming e-newsletter or print issue.


Advertising Opportunities

Have a product or service you want to market to an expanded group of professionals who work directly with the aging population, or an open position that you need to fill quickly? Aging Well offers many flexible advertising programs designed to maximize your results. From print advertising to E-newsletter sponsorships, Web site advertising to direct mail opportunities, Aging Well helps achieve your goals.

E-mail our experienced account executives today at sales@gvpub.com for more information or call 800-278-4400!

AlliedHealthcareers.com is the premier online resource to recruit professionals who specialize in working with older adults. Post your open positions, view resumes, and showcase your facility's offerings all at AlliedHealthcareers.com!

To unsubscribe from this mailing list, simply send a message to AW_Newsletter@gvpub.com with "Unsubscribe" in the subject line.

To change your e-mail address, please visit our Web site to unsubscribe your old address and sign up with your new one.