E-Vote
How do your patients/clients use their free time?
A. Exercise/sports
B. Artistic pursuits
C. Volunteer work
D. Reading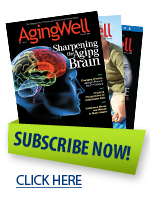 Recently in Aging Well...
IT Streamlines Nursing Home Operations
Innovative technology continues to improve the implementation of nursing home functions, from resident services modifications to facility management nuances. Read more

A New Purview for HIV/AIDS
Although successful therapies have extended the life expectancy of older adults with HIV/AIDS, some significant obstacles remain. Read more

The Workforce Landscape — Graying but Gritty
Older adults no longer anticipate early retirements or the prospect of unplanned, lazy days. Boomers expecting to work well past the age of 65 plan to use their knowledge, talent, and time wisely. Read more

Medication Monitor — Interaction Vigilance

The number of medications many older adults take puts this demographic at an increased risk of interactions among prescription drugs, over-the-counter medications, nutrients, and herbal preparations. Read more
Other Aging News...
Genes vs. Behavior
Behavioral choices such as smoking and sun exposure surpass genes in determining appearance as we age, according to CBS News.
Senior Emergency Departments
NPR reports that specially trained staff and innovative design elements make an older adults' emergency department particularly efficient and appealing.
Seniors Want Dynamic Activities
Senior centers across the country face challenges in developing programming that meets the expectations of 21st century older adults, the Pittsburgh Tribune-Review reports.
Turning to Franchises
Franchises offer retirees opportunities to develop their entrepreneurial talents, according to MSNBC.
Job Openings
In print and online and specific to your field! Facilities from all over the country place ads in Aging Well to find professionals like you! When searching for your next job, check out the career opportunities section in the pages of Aging Well magazine and visit the Aging Well Online Job Bank, located at www.AlliedHealthcareers.com.
Online, you can search jobs anonymously, post your resume, and apply to jobs instantaneously!

Editor's E-Note
It's clear that nutrition is a critical player in lifestyle considerations that affect older adults' longevity. As we celebrate National Nutrition Month in March, it's important to create opportunities to make your patients and clients aware of the key role diet plays in staying healthy and, in turn, enhancing elders' quality of life.
This month's E-News Exclusive, "Adult Day Services: More Than a Stopgap Measure," highlights the dramatic modifications such services will likely undergo to effectively serve the baby boomer demographic that will populate senior day care centers in the not-too-distant future. In addition to programming and staffing considerations, diet and nutrition issues serve as a focus for proposed overhaul and enhancement.
Healthcare professionals can take active roles in providing input to local legislators and planners who can influence the success of senior day care services as they evolve to serve diverse groups of older adults. Take the opportunity to make a difference.
We welcome your comments at AWeditor@gvpub.com
— Barbara Worthington, editor
E-News Exclusive
Adult Day Services: More Than a Stopgap Measure
By Barbara Worthington

Adult day care provides for specific acute needs of older adults and their caregivers. But to successfully address the approaching wave of baby boomers, such services will have to be modified in both programming and flexibility to meet boomer needs and expectations.

Ideal for providing an intermediate step between aging in place and institutionalization for older adults, adult day services continue to expand and evolve. It may be surprising that such services have been in place for more than three decades. In 1978, only 300 adult day care centers existed nationwide. The country's older adult population explosion has seen that number increase to more than 2,100 such centers by the 1980s and more than 4,000 today, according to the National Adult Day Services Association.

Adult day services have proven essential for providing caregiver respite, as well as therapeutic services and social activities for older adults faced with diagnoses such as Parkinson's disease, diabetes, and Alzheimer's disease. Adult day care permits caregivers to maintain their jobs and escape the guilt often associated with placing a loved one in a residential facility. At the same time, older adults who are the beneficiaries of adult day services enjoy the opportunities for social interaction, engaging activities, a range of healthcare services, and assistance with the activities of daily living.
Ask the Expert
Have a question you want answered by one of our experts? Send your question to
AWeditor@gvpub.com
and it may be featured in an upcoming E-Newsletter or print issue.
Question:
As a social worker and facilitator of an Alzheimer's disease (AD) support group, I have seen many families (including mine with regard to my mother) in denial when their loved ones have been diagnosed with AD or dementia. In addition to denial in such cases, another important issue that troubles family members is their concern regarding the older adult's driving. When an older adult gets lost and/or experiences impairment in decision-making processes, who should tell an elder that the individual may no longer drive? Should families rely on the elder's physician?
Sandra L. Marsch, MSW
Drums, PA

Response:
Informing any older adult that he or she should stop driving presents a potentially delicate situation. The family—spouse, children, or other—is in a very risky position and can expect unfavorable reactions from a loved one that can vary from resistance and resentment to intense anger or even hostile responses. This is especially true when, as with your clients, cognitive impairment is present.
The physician is the ideal choice in most cases. This is especially effective and well received when the individual has an established and trusted relationship with the physician. In cases where there is not such a close physician-patient rapport, a pastor, rabbi, or other spiritual adviser can provide similar caring and authoritative communication of this important advice.
Advertising Opportunities:
Have a new product you want to market or an open position that you need to fill quickly? Aging Well offers many flexible advertising programs designed to maximize your results. From print advertising to E-newsletter sponsorships, Web site advertising to direct mail opportunities, Aging Well helps achieve your goals.

E-mail our experienced account executives today at sales@gvpub.com for more information or call 800-278-4400!

AlliedHealthcareers.com is the premier online resource to recruit professionals that specialize in working with older adults. Post your open positions, view resumes and showcase your facility's offerings all at AlliedHealthcareers.com!

To unsubscribe from this mailing list, simply send a message to AW_Newsletter@gvpub.com with "Unsubscribe" in the subject line.

To change your e-mail address, please visit our Web site to unsubscribe your old address and sign up with your new one.