In This Issue...


Recently in Aging Well...
Brain Fitness Games: The Real Deal?
Experts hold varying opinions regarding brain fitness games' abilities to improve older adults' cognitive skills with respect to memory and activities of daily living. Read more »
Communication Partners
Communication partners create a vital link in the exchange of information for older adults whose communication capabilities are impaired by disease or trauma. Read more »
New Flu, Old Problem
The H1N1 pandemic focuses attention on the implications of this influenza strain for older adults. Read more »


Other Aging News...
Blood Pressure Linked to Dementia
Studies show that controlling older adults' blood pressure may be the best defense against developing dementia, according to an article at MSNBC.com.
Choices at the End of Life
For many older adults, high costs associated with end-of-life care may be burdensome and without the possibility of a substantial survival advantage, according to an article in the Los Angeles Times.
Denmark Leads the Way in Digital Care
Adopting electronic medical records and adapting Denmark's medical monitoring practices may be key to streamlining the process of keeping tabs on older adults' conditions, according to an article in The New York Times.
150,000 Seniors in Revolt
Some older adults find the AARP's support of the House healthcare bill suspect in view of the organization's branded healthcare insurance policies, according to an article at CNN.com.


Editor's E-Note
Research conducted by Stephanie Studenski, MD, a physician specializing in geriatrics and a professor of medicine at the University of Pittsburgh, confirms the correlation between older adults' gait speed and their longevity. The walking speed of older adults in their 60s and 70s represents a strong predictor of how long they're likely to live.
This revelation offers practitioners another tool by which to assess older adults' overall health, according to Studenski, noting that gait speed is a core indicator of the condition of many body systems in older adults. Its importance as such an indicator may ultimately find gait speed monitored among older adults as a vital sign, similar to pulse and blood pressure, according to Studenski.
It's another valuable resource to add to your arsenal of assessment capabilities for your patients and clients. If you notice their gait speed slowing slightly or dramatically, it may signal the necessity to evaluate conditions or circumstances that may contribute to diminished walking ability.
We welcome your comments at AWeditor@gvpub.com. Visit Aging Well's Web site at www.AgingWellmag.com for news, articles, and information important to professionals in the field of aging, as well as to subscribe to our print or digital issues.
— Barbara Worthington, editor


E-News Exclusive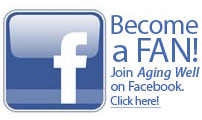 Gait Speed as a Longevity Indicator
By Barbara Worthington
Is it a casual stroll, a brisk walk, or a painfully snail-like saunter? A recent study indicates the walking speed of older adults in their 60s and 70s represents a strong predictor of how long they're likely to live. The study shows that those who walk faster are more than twice as likely to be living 10 years later. And the survival gap between fast and slow walkers is even greater at 15 years.
Stephanie Studenski, MD, a physician who specializes in geriatrics and serves as a professor of medicine at the University of Pittsburgh, presented the data at the 19th International Association of Gerontology and Geriatrics World Congress of Gerontology and Geriatrics. The study included a pooled analysis of nine studies that observed more than 34,000 older adults. Findings indicate that elders who displayed the ability to walk faster are more than twice as likely (92% vs. 45%) to be alive after 10 years.
Fifteen years after the gait observations, the survival gap between the fast and slow walkers became even greater (83% vs. 34%). Indications from previously conducted research revealed that a slow walking speed in older adults is also associated with sarcopenia, an age-related condition that involves a progressive decline in muscle mass, strength, and function.


Ask the Expert
Have a question you want answered by one of our experts? Send your question to
AWeditor@gvpub.com
and it may be featured in an upcoming e-newsletter or print issue.


Advertising Opportunities
Have a product or service you want to market to an expanded group of professionals who work directly with the aging population, or an open position that you need to fill quickly? Aging Well offers many flexible advertising programs designed to maximize your results. From print advertising to E-newsletter sponsorships, Web site advertising to direct mail opportunities, Aging Well helps achieve your goals.

E-mail our experienced account executives today at sales@gvpub.com for more information or call 800-278-4400!

AlliedHealthcareers.com is the premier online resource to recruit professionals who specialize in working with older adults. Post your open positions, view resumes, and showcase your facility's offerings all at AlliedHealthcareers.com!

To unsubscribe from this mailing list, simply send a message to AW_Newsletter@gvpub.com with "Unsubscribe" in the subject line.

To change your e-mail address, please visit our Web site to unsubscribe your old address and sign up with your new one.