Job Openings
In print and online and specific to your field! Facilities from all over the country place ads in Aging Well to find candidates like you! When searching for your next job, check out the career opportunities section in the pages of Aging Well magazine and visit the Aging Well Online Job Bank, located at www.AlliedHealthcareers.com.
Online, you can search jobs anonymously, post your resume, and apply to jobs instantaneously!
E-Vote
Among your patients/clients, which area has been affected most by the current economic crisis?
A. Housing
B. Medical expenses
c. Daily household expenses
D. Transportation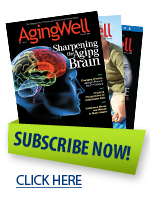 Advertising Opportunities:
Have a new product you want to market or an open position that you need to fill quickly? Aging Well offers many flexible advertising programs designed to maximize your results. From print advertising to E-newsletter sponsorships, Web site advertising to direct mail opportunities, Aging Well helps achieve your goals.

E-mail our experienced account executives today at sales@gvpub.com for more information or call 800-278-4400!

AlliedHealthcareers.com is the premier online resource to recruit professionals that specialize in working with older adults. Post your open positions, view resumes and showcase your facility's offerings all at AlliedHealthcareers.com!

To unsubscribe from this mailing list, simply send a message to AW_Newsletter@gvpub.com with "Unsubscribe" in the subject line.

To change your e-mail address, please visit our Web site to unsubscribe your old address and sign up with your new one.
Print Preview
In the January/February issue:
Heart Healthy Aging: Five Successful Strategies
Through specific lifestyle changes, older adults can reduce the risk of cardiovascular disease.
A New Purview for HIV/AIDS
Although successful therapies have extended the life expectancy of older adults with HIV/AIDS, some significant obstacles remain.
IT Streamlines Nursing Home Operations
Innovative technology continues to improve implementation of nursing home functions, from resident services modifications to facility management nuances.
Reverse Mortgages — A Quick Financial Fix?
Under specific conditions, reverse mortgages provide elders a welcome solution to cash flow problems. But they're not for everyone.


Our country's difficult economic times have prompted older adults to adopt some drastic measures to stretch their dollars in the face of daunting circumstances. This month's E-News Exclusive paints a picture of the ways elders are attempting to cope with the economic squeeze that finds them facing dilemmas as they ration their funds to afford housing, food, and medication. It also offers tips to pass along to clients or patients who are seeking solutions to their quandaries on ways to make ends meet.

Field Notes features an article on surprising findings indicating that when storing memories—particularly those associated with negative emotions—older adults actually use their brains differently than younger people. Another article details information from a recent study that ties increased blood pressure in older adults to decreases in cognitive function.

We welcome your comments at AWeditor@gvpub.com.
E-News Exclusive
Have a question? Get an expert answer by sending
an e-mail to edit@gvpub.com.

Economy Forces Tough Choices for Elders
By Tracy Meadowcroft
Discount retailer Wal-Mart has aired a commercial in which an older adult finds his adult daughter dividing his pills into daily doses. He tells her she doesn't need to do that, but she assures him there is enough medication for every day. "How can I afford that?" he questions, clearly concerned about the cost of a 90-day supply of his medication. She smiles, telling him it cost only $10.
cutting back on medications or eliminating them completely is only one measure numerous older adults have taken to save money in the wake of the current economic crisis that officially has the country in a recession. Not every older adult has a cushy pension or 401(k) from which to draw funds, and monthly checks from Social Security can't always cover an elder's expenses.
Field Notes

Old, Young Brains Rely on Different Systems to Remember Emotional content
Neuroscientists from Duke University Medical center have discovered that older people use their brains differently than younger people when it comes to storing memories, particularly those associated with negative emotions. The study, appearing online in Psychological Science, is a novel look at how brain connections change with age.
(READ MORE)
Ask the Expert

Question:
I have a client who may be developing a memory problem. She is beginning to hoard everything—paper, food, mail, etc. It's becoming more difficult to get around in her home. If it continues, what steps can I take to intervene?
connie Marston, RN, ccM
cadillac, MI
Response:
You should be concerned about your client's hoarding since it can quickly snowball and become dangerous.
The act of collecting things is not necessarily hoarding. When the collecting doesn't encumber elders' lives, doesn't prevent them from taking medication (because they can't find it), doesn't interfere with their safety or comfort, or doesn't prevent them from doing ordinary tasks (including taking out the trash if physically capable), it is not hoarding. Although we may not be fond of clutter, it's not necessarily hoarding.
Not all individuals who hoard have a dementia such as Alzheimer's disease. Initially, it's important to determine whether there is dementia since the approach for a client without dementia is completely different.
Evaluate your client for dementia immediately, as situations that involve hoarding with demented individuals often escalate and rapidly get out of control. The following are steps you can take:
Request that the physician perform a thorough physical examination to determine whether the client is becoming demented, while additionally checking for physical issues such as depression and delirium that could exacerbate the possible dementia and hoarding behavior. If present, treat the dementia and any other physical conditions.
complete a history, looking for any previous conditions, such as obsessive-compulsive disorder, head injury, impulse control disorder, and bipolar disorder, that are comorbid with hoarding. If such a history exists, investigate what treatment was successfully utilized in the past and determine whether it could be effective again.
Develop a treatment plan with attainable goals. Eradicating all hoarding behavior is unrealistic and would not be a good objective. Limiting the risk of falls, fires, and contaminated foods, and keeping the housing are realistic goals, and reducing the hoarding behavior may also have merit as an achievable goal.
Since your client appears to be in the early stage of illness, intervention is appropriate. I suggest providing meaningful activities to replace or curb the hoarding behavior. Since your client may be able to understand, stress the legal ramifications, such as eviction, that may result from the behavior. You can offer your assistance to prevent this from happening and help at least modify the clutter to the degree necessary to prevent legal actions from occurring. Provide support when cleanup is complete, and be prepared for negative reactions about items that were discarded. Since structure is important, as soon as something is discarded, immediately remove it.
Remove items only with permission. Since a client in the early stages of dementia could become paranoid or accuse you of stealing, I don't recommend taking something from someone who will likely notice it's missing. Negotiate first. For clients with more advanced dementia, consider removing enough to contain the problem, as the individual may lack the ability to notice. Involve the family as much as possible. Do not be punitive in your intervention. Although placement in personal care or a nursing home may eventually become necessary, understand that the hoarding behavior will not disappear, so be prepared.
I refer professionals to the book compulsive Hoarding and Acquiring: Therapist Guide by Gail Steketee and Randy O. Frost for a general discussion and to the Alzheimer's Association for information on hoarding and dementia.
— James Siberski, MS, is coordinator of the Gerontology Education center for Professional Development at Misericordia University in Dallas, PA.