Trouble viewing? Click here.
Thank you for your continued support of Today's Dietitian. Below is information from one of our sponsors: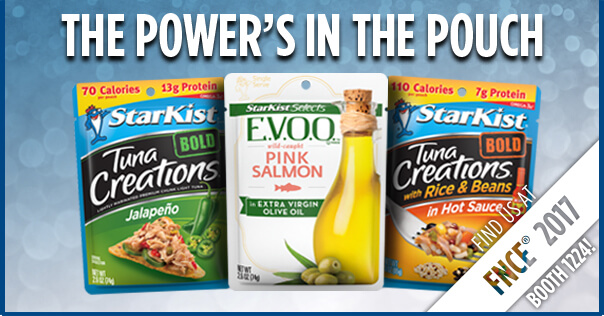 StarKist® Makes Seafood Delicious!
Stop by booth 1224 at FNCE® to sample our NEW Tuna Creations® BOLD and Selects E.V.O.O.™ products and for a chance to win* a Food Photography course!
Tuna Creations® BOLD Pouches are deliciously seasoned, ready-to-eat and add a kick of BOLD flavor to any meal or snack. We will be sampling our NEW Tuna Creations® BOLD with Rice and Beans and Tuna Creations® BOLD, Jalapeño.
Single serve
No draining required
Good source of lean protein
Easy way to add seafood to your diet
StarKist Selects E.V.O.O.™ packed in cold-pressed extra virgin olive oil is the perfect addition to any meal. Try it on salads, pasta or straight out of the pouch, and taste the delicious E.V.O.O. difference. Stop by to try a sample of our NEW StarKist Selects E.V.O.O.™ Pink Salmon in Extra Virgin Olive Oil Pouch!
Simple ingredients
14g+ of lean protein
Available in cans and convenient pouches
100 Years Never Tasted So Good!

We want to wish a Happy 100th Anniversary to the Academy of Nutrition and Dietetics. We are also celebrating 100 years of being America's favorite tuna** — what a flavorful century it's been for both of us!

Enter for a Chance to Win*

Interested in learning how to artfully photograph your favorite recipes? Visit booth 1224 to enter for a chance to win* a Food Photography course from Story on a Plate! Winners will learn how to style and photograph food like a professional.
**Source: Nielsen Custom Scantrak Data xAOC Dollar Share 52w/e 8/5/17