Click here to view in browser
Thank you for your continued support of Today's Dietitian. Below is information from one of our sponsors: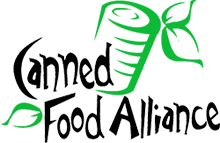 Thank you for visiting with the
Canned Food Alliance (CFA) in Austin!


We hope you enjoyed sampling our salad dressings made with surprise canned food ingredients. By replacing the oil traditionally found in dressings with a canned fruit, vegetable or bean, we added a serving of fruits, veggies and fiber and cut the fat and calories in half! The days of healthy salads paired with unhealthy dressings are no more! Here are the recipes, as promised:


New Recipe Booklets Added
to Menu Modeling Toolkit!


In an effort to help you communicate the many benefits of canned fruits, vegetables, beans, lean meats and seafood, we conducted new menu modeling analysis that shows how small shifts in the diet, including the addition of a few canned ingredients can help consumers increase their intake of key nutrients and meet the new Dietary Guidelines.

Last year we created three full-day menus—one for each meal pattern outlined in the Dietary Guidelines: the Healthy U.S. Diet, the Mediterranean Diet and the Vegetarian Diet. These menus offer recommendations for breakfast, lunch, snack and dinner and include nutritious and convenient canned food to help close nutrient gaps.



This year, we have two new updates for you:
NEW recipe card booklet you can download, featuring meal ideas from the U.S, Mediterranean and Vegetarian menu plans we put together. It shows how to assemble the meal with a photo, as well as the canned ingredient added to increase the nutrient of concern.
The CFA's Menu Modeling Research Toolkit was also peer-reviewed and an article was published in the March issue of the Journal for Nutrition Education and Behavior. Click here to download the article.
We hope this helps you bring the meals to life to show clients, patients or customers how easy it can be to throw these ingredients together to create a meal that meets the Dietary Guidelines for Americans.

Please let us know if there are any other ways we can assist you in your daily interactions with consumers. We're happy to work with you and provide you materials, talking points, etc. Thank you again for what you do, and for helping us communicate the many benefits of canned fruits, vegetables, beans, lean meats and seafood.




Industry updates, nutrition, and recipes from mealtime.org


© 2018 Canned Food Alliance. All Rights Reserved.